Aug 31, 2021
LANCK Telecom is shortlisted at Global Carrier Awards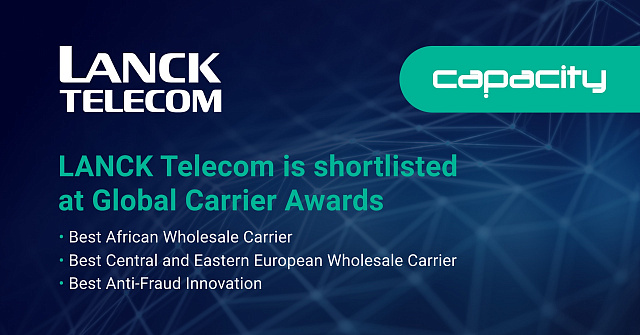 We're excited to announce that we've been shortlisted at the Global Carrier Awards 2021 by Capacity Media for 3 nominations in a row:
Global & Regional category

Best African Wholesale Carrier

Best Central and Eastern European Wholesale Carrier

Innovation & Technology category

Best Anti-Fraud Innovation
VOX Carrier, Telefonica Global Solutions, iBasis, Liquid Intelligent Technologies, Oteglobe, RETN and AB Handshake – get prepared! The LANCK Team is expressing our best wishes to our co-nominees in each category. However, please take into account – we're anxious to win! 
Our warmest gratitude to the judges and the whole Capacity Team for organizing the awards! 
Wishing good luck to all the nominees! Looking forward to seeing you at the final announcement ceremony in London on October 20.