Apr 29, 2022
What is Omnichannel Communication? (Part 2) – Understanding Each Channel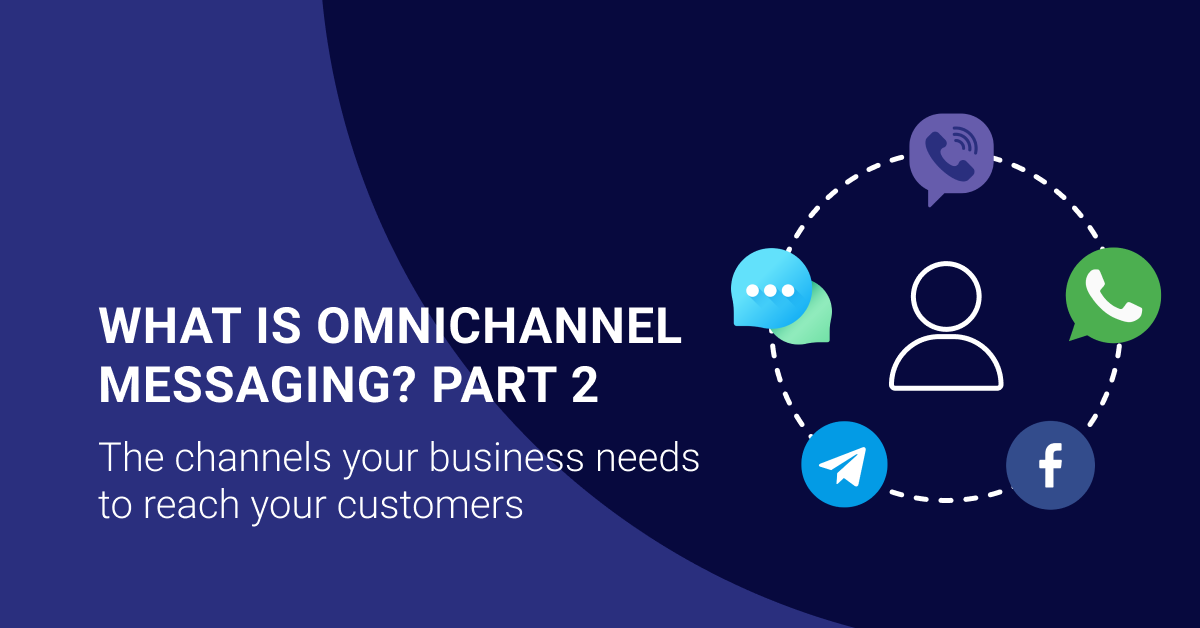 To trust any marketing tool, we need to understand how it works, its features and what the pros and cons are. We need to know it from the inside out. In the case of an omnichannel communication platform, this notion couldn't be more true. 
As consumer shopping and daily communication shift to our mobile devices, it's necessary to rethink how you connect with your customers – to ensure your messages reach them. And in the right way. From promotion to purchase to support and beyond.
An omnichannel communication platform allows you to provide seamless support for your customers along the entire customer journey in the channels they use. You can reestablish a meaningful connection with your audience, boost brand loyalty, reduce churn and multiply returns over and over. 
Omnichannel communication is for marketing, customer service, retail, utilities, healthcare and on and on. The platform is critical for any company in any market that needs to communicate with customers.
So, naturally, you need to know what channels we're talking about when we say omnichannel communication: 
What channels does omnichannel messaging software use? Facebook? Viber? SMS? 

What exactly is RCS?

Which channel is best for my business? 

How can I know which channel to use in different scenarios?
In Part 1, we outlined why modern businesses need an omnichannel communication platform. In this article, we're going to answer these questions above, and more.
First, here's a quick definition of omnichannel communications.
What is Omnichannel Communication?
Omnichannel communication software brings together all of the communication channels that people love and use daily for shopping and communication into one platform. It allows businesses to monitor, analyze and implement communication strategies with customers at every point along the customer journey via every channel while ensuring a seamless customer experience.
Are we talking about omnichannel or multichannel? While you may have heard the term "multichannel", be sure not to confuse this with omnichannel. There is a fundamental difference between the two. 
What is the Difference Between Multichannel and Omnichannel?
A multichannel approach to business-to-customer messaging uses many of the same channels that an omnichannel communication platform uses. However, the key difference is that an omnichannel messaging solution brings these channels together into one unified platform, allowing the business to utilize different channels at various points along the customer journey while ensuring a seamless customer experience. 
To implement an omnichannel communication strategy most effectively and to trust in it, we need to understand how each channel works, the functions it serves and its benefits and disadvantages. Let's begin.
What Channels Does Omnichannel Communication Use?
You've likely heard of and maybe even used Facebook Messenger, Viber or WhatsApp, depending on which region of the world you're in. The popularity of each app varies from one region to another. This is a key factor that influences which channel to use at any given time. 
OTT channels are widely used for daily communication between friends, family and colleagues (Viber, WhatsApp, Telegram, etc.). This is what makes these channels so effective for brands delivering information to customers – your customers are already there.
However, there are many other channels besides popular OTT apps that serve business-to-customer communication needs. These include:
SMS
RCS

– A new technology and potentially a revolution for messaging solutions

Voice messaging

:

Text to speech
Pin2speech
Flash calls
Let's look at each one, in detail.  
SMS – A key piece of the omnichannel communications platform
It's likely you know what SMS is (text messaging). This is the standard built-in messaging app used to send text messages on your phone. Widespread use is its key feature.
In terms of business messaging, this means more than just person-to-person (P2P) communication. For example, an automated omnichannel communication system may send an SMS to a customer on your business's behalf to notify them of a flight delay. In such cases, a bot interacts with customers (A2P) and vice versa (P2A). 
Overall, business messaging entails P2P, A2P and P2A messaging. SMS messaging is particularly effective here because of the sheer number of people already using it. According to Mobilesquared, the number of SMS users on our planet is on the verge of reaching 6 bln users and is growing 10% each year. Imagine how many people are already connected to you via SMS.
SMS
has the
widest reach
of all messaging types.
This is a key channel for businesses. Beyond reach, SMS has other advantages:
Reliability

Can be

delivered

even if the customer is offline (later)

Lowest requirements

for mobile devices (which means it's ubiquitous)

No need for internet

to receive messages
However, there are also disadvantages:
Rising

costs 

160 character limit

per message

Notorious for

spam

and

fraud
Operators are imposing more and more restrictions

 (it's becoming more difficult to use this channel – it's not as free to disseminate the service as it was before)
When price isn't an issue and reach is the main goal, SMS is the channel of choice. It's highly effective for performing all four of the major messaging functions (promoting, informing, verifying, and supporting). A well-equipped omnichannel communication solution can identify when SMS is the ideal channel for your goals.
But when price is an issue, OTT technology is the next choice.
OTT Channels of the Omnichannel Communications Platform
OTT refers to WhatsApp, Viber and similar messaging apps. They offer limitless and cost-free messaging via the internet. Herein lies both their advantages and disadvantages. 
Usage of OTT tech has skyrocketed in recent years, with many new variations appearing on the market. The most common is WhatsApp, with more than 2 bln active users. Most of its users are in India, Brazil, the US, Europe, the Middle East and Russia. Its wide reach, low cost and geographic coverage make it a valuable customer communication channel for businesses.
Let's look at a couple of examples of OTT apps and how they can be used for business messaging.
WhatsApp Business Messaging: Low cost, high reach – Another key piece of the omnichannel platform
The basic, well-known WhatsApp texting and calling app is popular worldwide. But it's important to distinguish between the WhatsApp business app (free app for businesses) and the WhatsApp business API (for middle and big enterprises).
The advantage of the business API is it can be integrated into a system with many more advanced settings.
However, both have great advantages:
Communication log

Allow you to provide

info

about your company

Allow you to talk to your customer through a

branded

and

verified channel

Customers are

protected from spam
Multimedia messaging
No character limit

per message

Cheaper than SMS

in many countries

2-way communication

with customers – receive feedback and respond to inquiries immediately

Metrics for

tracking sent message performance
And disadvantages:
Neither can be used for promotions

. The main aim of the API is to support customers and to help them along the customer journey

Compared to SMS,

it has a narrower reach

(but it's still 2nd behind SMS)

Monthly minimal usage

– enterprises must pay a monthly minimum for the service

Customers must have the internet

– While this isn't a concern for companies in many regions of the world, in many emerging markets internet access isn't as widespread
You can also use Whatsapp for verification, but its main function is to support the customer.
Many customers are already there, using Whatsapp, and are more ready to communicate there than in any other app. However, other OTT apps may serve your needs better, depending on your goals.
Viber – Different geographical reach and functionality
The second most popular OTT app is Viber. The advantages and disadvantages remain mostly the same, except that Viber allows promotion and it's more widely adopted than WhatsApp in specific regions of the world. 
The main differences between the two are geographical reach and functionality. Viber is widely used in the CIS, Eastern Europe and Asia. 
Similarities With WhatsApp
Viber features most of the same advantages and disadvantages as Whatsapp:
Multimedia messaging
Long messages

(

1000

character limit)

Metrics

for tracking the performance of sent messages

A

friendly

,

widely-adopted

app
In short, it effectively performs the four main functions.
Advantages of Viber over WhatsApp
Many ask, "Which is better, Whatsapp or Viber for business?". The answer depends on where your customers are located and what function you want to use the channel for.
For example, in Brazil, Whatsapp messaging is more widely used than Viber. In Belarus, Viber is the most common app. If you need to use a messaging app for promotions, Viber is your channel because the WhatsApp business API doesn't allow promotion.
It depends on what your goals are, in which region of the world your customers are located and which application they like and use. 
With a bespoke omnichannel communication solution, you can customize your messaging preferences according to customer demographics and utilize the optimal channel to maximize results. 
OTT apps are widely used and affordable. However, while we're talking about omnichannel communication solutions, it's impossible not to mention RCS – Rich Communication Services.
Rich Communication Services (RCS) – The next evolution of SMS
Because RCS brings a multitude of incredible features into the native SMS messaging app, many in the telecommunications industry consider it the next evolution of SMS. However, it isn't yet fully developed nor widely adopted.
Essentially, it's a very smart and simple idea – the native text messaging app will be enriched with multimedia capabilities, like the OTT apps, plus many more smart features including purchases, payments, AI learning to improve customer experience, group calling and much more. 
RCS
combines the attractive functionality of OTT apps with the reach of SMS
. 
A key value of RCS is that it will immediately have more users than other OTT apps (because it will be integrated into the native messaging app of any smartphone), with the same impressive functionality. 
While it has great prospects as a communication channel, many challenges remain. Most current omnichannel communication solutions don't use it  because:
For it to be widely spread, mobile operators must make

major investments

in their hardware, especially in 5G.

Relevant figures in the telecommunications industry haven't yet made a common decision on the

standards

to be used with this tech, to make it ubiquitous among all countries.

The question of

how to charge

for RCS messages also remains unanswered. 
In most countries, RCS is still in the testing stage. There's only one country in which all mobile operators have already invested and launched RCS – Germany.
RCS also, of course, performs all four of the major messaging functions. 
Another channel that is key to an omnichannel communication platform is voice.
Voice
Voice serves many key purposes for businesses. However, it's a deep topic that we've saved for Part 3 of this omnichannel communication series. There, we outline the specific voice channels used in omnichannel communication and their purpose. 
Hint: voice channels are integral to security. 
Lastly, we provide some examples of optimal communication flows for your visualization.
If you haven't read Part 1, it may be of interest to you. It gives an easily understandable, but detailed overview of the benefits of omnichannel messaging and why this technology is essential for the modern business.
Get an Omnichannel Communication Platform Today
LANCK Telecom is a global carrier with 20+ years of experience in all areas of telecommunications. With hundreds of direct-to-carrier connections and multiple partners around the globe, including MNOs, MVNOs and more.
We specialize in providing robust and reliable telecom solutions that are integral to enterprise success in the digital age.
As an omnichannel communication provider, we offer cost-effective, cutting-edge omnichannel systems equipped with the necessary functionality that an enterprise needs to succeed in customer communication. Whether you work in eCommerce and are looking for omnichannel chat solutions or you're in the blockchain market and need reliable customer verification services, LANCK Telecom's omnichannel communication solutions will serve your needs.
We help you establish a personalized messaging ecosystem, guaranteeing you'll cut messaging costs, reach your customers in the right channels every time and boost returns. You also get qualified, round-the-clock, support from experienced professionals. 
If you're ready to try an omnichannel communication solution, or if you just have questions, feel free to contact us here. One of our global messaging specialists will be in touch with you today. 
….
About LANCK Telecom
LANCK Telecom is an international carrier, offering wholesale Voice and SMS termination, fraud prevention and enterprise solutions to hundreds of partners worldwide. With 20+ years in telecommunications, we operate on 5 continents with more than 1,200+ active partners. 
Our team is composed of 200+ people located all around the world – in the USA, Cyprus, Hong Kong, Georgia, Spain, Russia, Latvia and in regional offices across Europe, CIS, Middle East, Africa and Latin America. LANCK Telecom is a member of major associations, including those in the fight against fraud, such as the i3 forum and CFCA. We're also a signatory of the Code of Conduct and an associate member of the GSMA organization.