May 20, 2022
This would help Musk's Twitter deal…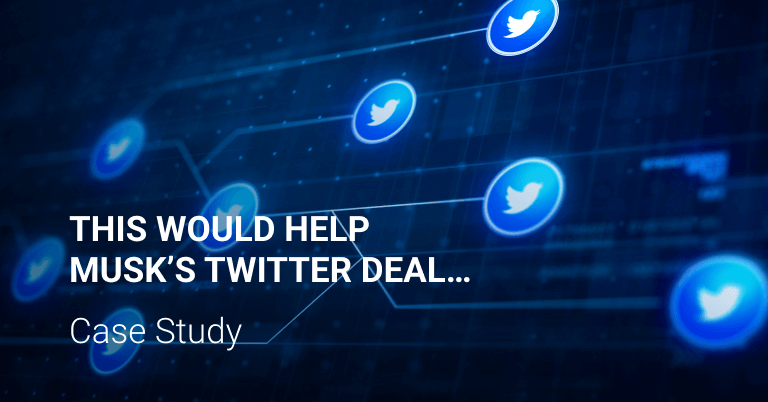 Elon Musk has shockingly put the $44bn Twitter deal on hold over his suspicion of the true percentage of the social platform's fake and spam accounts, sending Twitter shares tumbling.
Mr Musk tweeted that he is waiting for detailed confirmation that fake accounts do indeed constitute only 5% of the social platform's overall active user base. He even speculated that the percentage could be as high as 90%. Even before pausing the deal, Mr Musk repeatedly stated his intention of ridding Twitter of the millions of spambots. We know what might help. 
At LANCK Telecom, we specialize in multi-layered user authentication, omnichannel verification, anti-spam and anti-fraud communication solutions for telcos and enterprises. So, we'd like to offer our expert assessment of the fake account issue and offer a few possible solutions. 
The 'Price' of Fake Accounts
Fake and spam accounts present many costly problems for companies which, like Twitter, need to authenticate large numbers of users:
They spread misleading information and spam

, leading to

reputational losses

They

decrease the value of the company

from a merger and acquisition standpoint

They make the company

more vulnerable to fraud:

fraudsters register fake accounts using premium-rate numbers and companies spend excessively on SMS One-Time-Password (OTP) delivery
LANCK Telecom's solution: Omnichannel Authentication and Verification
Our experts at LANCK Telecom agree that a key solution that prevents the creation of fake accounts is secure user authentication, which uses a variety of communication channels. We provide our enterprise clients with robust user authentication and omnichannel verification, delivering One Time Passcodes (OTPs) via SMS, Voice, Push notifications, OTT and email. 
We provide a customizable combination of these channels for each client to reach maximum security, cost-efficiency and user acquisition. As the Managing Director of LANCK Telecom, Alexey Yanson describes it:
"We are always trying to follow the trends that provide our clients with flexibility and with the ability to choose which method of verification feels most efficient, cost-effective, and convenient for their users."
Why Is Omnichannel Authentication and Verification Important?
Fraudsters often register fake accounts with premium-rate numbers to benefit from the cost of expensive SMS OTP delivery. This fraud scheme relies on the fact that SMS is the most expensive channel for passcode delivery. So if it is the only method used by a company then the losses to such fraud schemes can be significant. 
Solution 1: Multiple Verification Channels
However, Voice and OTT channels are much cheaper. Hence, if a company verifies users with premium-rate numbers through Voice and OTT then fraudsters will lose the incentive to create this elaborate scheme and the losses can be avoided. This is just one of the many security solutions that LANCK Telecom provides for enterprises.

Learn more about our user authentication solutions
Solution 2: Phone Number Check at Registration
Another way to prevent the creation of fake accounts is to check for fake or temporary phone numbers at registration. LANCK Telecom provides this solution to our enterprise clients: we check the numbers of new users at the sign-up stage and, according to our client's settings, decide whether to allow the sign-up with or without sending an alert of a suspicious number or to block the sign-up altogether. 
Thanks to our 20+ years of experience we have developed a reliable and easy-to-integrate Fraud Management System powered by advanced AI and machine learning that can detect even the most dubious fraudulent telecom activities, such as Caller ID spoofing.
LANCK Telecom Communication Solutions for Enterprises
We would be thrilled to share our expertise in secure communication and user authentication and verification with any company suffering from fake accounts, spam and telecom fraud or simply looking for a more efficient communication platform. 
LANCK Telecom provides secure and cost-effective communication and authentication services for enterprises, from OTP delivery to omnichannel B2P communication via SMS, OTT, Voice, Push, RCS, and email. If you suffer from reputational and financial losses from telecom fraud, we've got you covered with our Fraud Management System (FMS), which comes free for our enterprise clients. 
Our FMS blocks all types of telecom fraud in real-time, 24/7. It has already saved our clients millions of dollars and stopped millions of attacks, blocking several thousand attacks daily.  
If you'd like us to take a look at your unique situation and offer our personalized solution, please get in touch with us today. You can find out more about our all-in-one authentication and verification solution here.

Would you like to get a personalized offer? Get in touch via the form below or email us at fms@lancktele.com