May 24, 2022
LANCK Telecom Shortlisted in 6 categories for CC Global Awards 2022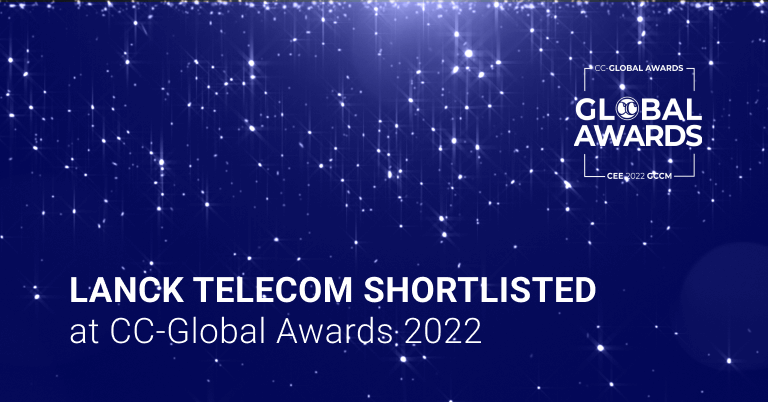 We are excited to announce that LANCK Telecom has been shortlisted in 6 categories for the Carrier Community Global Awards 2022.
Annual Event From a Global Platform
Carrier Community (CC) is an exclusive networking and branding platform for wholesale telecom service providers and telco eco-systems partners. CC is organizing its 6th annual CC-GLOBAL AWARDS (CCGA) Ceremony on June 23rd, 2022, in Berlin, which LANCK Telecom will be attending with great pleasure.
Celebrating Innovative Achievements
This prestigious event brings together the best players in the industry to celebrate their achievements in a diverse range of categories: from OTT, Data and Voice to Cable, Cloud and Satellite.
We are excited to be shortlisted in the following categories and hope for a win:
Africa REGIONAL OPERATOR OF THE YEAR
BEST GLOBAL OPERATOR OF THE YEAR
BEST GLOBAL SMS SERVICE PROVIDER – WHOLESALE SOLUTION
LATAM REGIONAL OPERATOR OF THE YEAR
Middle East REGIONAL OPERATOR OF THE YEAR
We truly appreciate being selected alongside such distinguished and innovative companies. It's great to see many of our partners on the shortlist as well. We're also grateful to the jury for their hard work!
See You in Berlin
We look forward to meeting old friends and making new ones at the Europe 2022 GCCM in Berlin, where the CC-Global Awards winners will be announced.
You can learn more about Carrier Community here and read all about the CC Global Awards 2022 here.