Jun 2, 2022
Security Where it Matters – How 'Authentication as a Service' Protects Your Business in the Cloud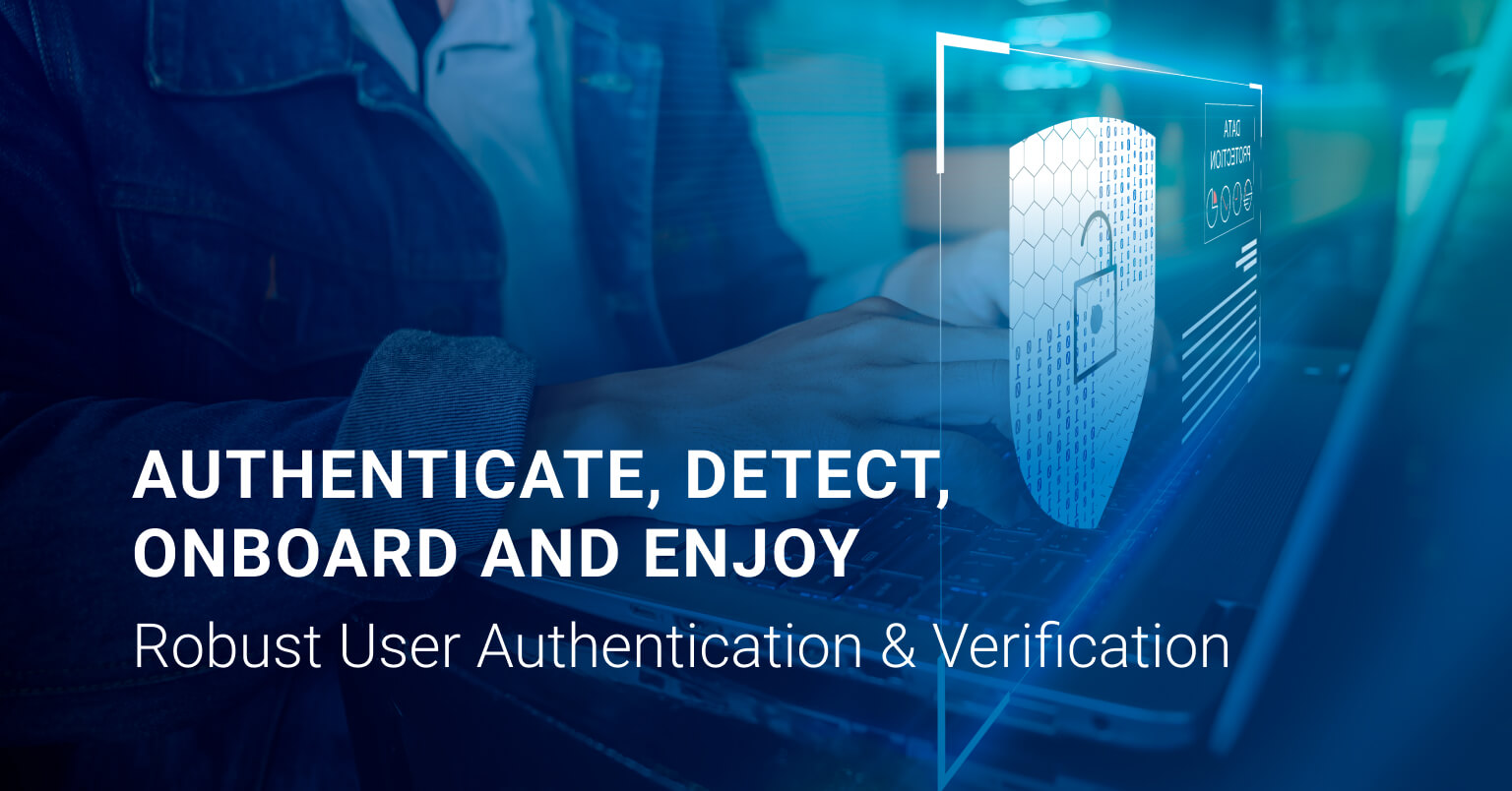 Whether you want to control access, implement eCommerce elements to your site or simply want to stop fraud attacks, 'Authentication as a Service' is essential for any cloud- or web-based service.
The registration and login points can give rise to serious fraud vulnerabilities. While you may be using 3-D Secure, online fingerprinting and user-behavior analysis, one key threat remains – fraudsters who've illegitimately gained access to your site or app. Or those who posed as legitimate users and are even registered and verified to use your service.
There's a simple way to mitigate these threats – a multifactor user authentication (MFA) and verification service can cut your losses by up to 98%(1).
Fortunately, cloud authentication services are now offered via what is called "Authentication as a Service", or AaaS. But don't let the acronym intimidate you.
What is Authentication as a Service (AaaS)?
Authentication as a Service is a multifactor user authentication (MFA) and verification service offered for your business via one simple, easy-to-access cloud-based service. No separate program installations are required.
Now, why is user authentication so important? Moreover, why is it so important for businesses to choose the right provider when searching for Authentication as a Service?
User login and registration is one of the weakest points for fraud breaches in any digital service, and the damages can amount to staggering financial and reputational loss to any business.
Why Do You Need Authentication as a Service?
Digital transformation translates to fraud transformation. Today, the COVID-19 pandemic has compounded this effect. As the digital economy grows and COVID creates a new normal, fraudsters are taking advantage of the confusion brought on by these changes.
The total amount of global fraudulent transactions via payment cards in 2021 was estimated at over $32 billion and is expected to reach a staggering $38.5 billion by 2027. 
Scams like phishing, SMS phishing, account takeover, subscription fraud and the like were responsible for a major portion of losses to telecom companies in 2021:
Phishing –

$1.62 billion

SMS Phishing –

$2.23 billion

Account takeover –

$1.62 billion

Subscription fraud –

$2.03 billion
By simply accepting a fraudulent payment, your company can be held responsible for the loss. Handling the dispute – the chargeback and the possible damage to your brand's reputation – can be a headache, to say the least.
Standard verification measures at registration and login can easily be bypassed by fraudsters who'll access a digital service, commit fraud and steal money and important data from you and your customers. 
In the end, enterprises face major revenue loss, major hits to their reputations and immense customer churn, all of which compound financial losses in the end.
An integral part of any fraud prevention system for any enterprise is a robust Authentication as a Service solution from a qualified provider.
So, which authentication platform do you need? A robust, multi-layered user authentication service with a "Cascade" verification flow guarantees industry-leading security at the lowest cost possible. 
It's much simpler than it sounds.
Authentication as a Service 
– Authentication + Verification
A robust Authentication as a Service platform offers two key functions: multi-layered authentication (e.g. phone number format, country, and validity check) and a cascading verification flow, to ensure you're maximizing security (and decreasing costs).
Here's how each one works.
Authentication – The first step in 'Authentication as a Service' 
The first step a user takes when registering on your website or app is to provide an email address or telephone number at registration. This is where your user system makes its first security check – authenticating the phone number or email.
The authentication platform automatically performs a multi-layered check of critical data connected to the phone number to guarantee its legitimacy. It checks:
Country by code and IP-address
Phone number format (mobile or landline number)
Phone number validity
Online status

Paid number status

If it's connected to a spam or fraud-related numbering plan
This check takes place behind the scenes, in split seconds, ensuring a swift and secure registration process for new users. This minimizes registration friction while maximizing onboarding capabilities.
Based on the results of the check, the system takes one of several possible actions:
Allows sign-up
Allows sign-up and sends an alert for a manual check
Blocks sign-up
After a user's phone number or email address is authenticated, you need to verify their future login attempts. Passwords are the most basic and widely known means of security check at login  – many businesses set complex password requirements to ensure greater security. 
However, a password isn't always enough. Verifying user logins via One Time Passwords or the like is the only way to stop fraudsters.
Verification – The second step in 'Authentication as a Service'
A robust online authentication tool can send your users OTPs in an email, a text message or even a flash call. The user enters the code, access is granted – security for all, but not just anyone. 
An Authentication as a Service platform can send users OTPs via many channels:
SMS
Flash Calls

(Voice OTP)

Pin2Speech

(Robocalls)

OTT messengers

(Whatsapp, Viber, Telegram, etc.)

Direct calling

(here, the end-user calls a number from a webpage)

Push notifications
E-mail
The costs associated with each method vary widely from country to country. And SMS and voice costs regularly fluctuate, regardless of location. 
Fortunately, you can create an omnichannel flow where each verification method can be used one after the other in the most effective way, depending on the destination. 
This is where the term "Cascade" comes from. The cheapest goes first. If it doesn't work, then the next one is enabled, and so on and so forth. Here's an example.
"Cascade" Verification – A key function of verification
Most authentication service providers will offer SMS as the most reliable method of verification because it has the widest reach – anyone with a mobile phone (smartphone or otherwise) can receive an SMS. It's wise to choose this method first because it ensures the message is delivered. 
However, because the cost of an SMS can be high, you can set your user authentication service to use less expensive methods first, with SMS as a fallback.
Fallbacks in Cascade Verification Flows
Here's an example of a common cascade flow:
Push notification
Pin2Speech
SMS
Here, you utilize a low-cost push notification first, as it's the most affordable and convenient for message delivery. SMS is a reliable, last-case-scenario fallback option.
Such a "Cascade" guarantees a maximum delivery percentage at minimum cost. Added up over time, the cost savings are enormous. 
With a multi-layered approach to your user authentication and verification service, enterprises can ensure their platforms are secure. They also gain the peace of mind of knowing they aren't breaking the bank to achieve this.  
So, where does an enterprise turn to find an Authentication as a Service provider? A telco. 
As the digital service economy expands at such a rapid rate, telcos are becoming an increasingly important partner for enterprises in this environment. 
As demand for digital services expands and traffic flows and revenues rise, so does an enterprise's need for telecommunications-related tools like user authentication services, omnichannel messaging and fraud management systems. Partnering with a Telco is the answer. 
LANCK Telecom Offers Cutting-Edge Authentication as a Service Platform
LANCK Telecom's user Authentication as a Service platform guarantees all of the above features and benefits, plus more. 
Our fully customizable Authentication as a Service is robust, user-friendly and easy to use. Our enterprise partners take advantage of the most optimal flows for their individual needs and wishes. 
For delivery, they choose from a wide range of channels:
OTT

(

WhatsApp

,

Viber

,

Telegram

)

SMS
Push notification
Voice
Email
And more, depending on their exact verification preferences and needs.
By choosing LANCK Telecom as their Authentication as a Service provider, our enterprise partners enjoy unmatched security and cost savings. Overall, the user authentication system cuts account abuse and access-related losses by 98%(1). 
LANCK Telecom – Easy Integration With 24/7 Customer Support
In the unlikely case that our partners experience any issues related to their traffic or any questions arise at any time of day or night, our expert support staff is on hand 24/7 to resolve any concerns, large or small. 
The state-of-the-art web-based platform is easily integrated into the default settings of any enterprise's current system. Integration is low-cost and swift and the platform is ready to use immediately. 
Get 'Authentication as a Service' Today From LANCK Telecom
LANCK Telecom has been a key player in the telecommunications market for 20+ years. Our team of seasoned experts understands exactly what companies operating in the digital space need to remain secure.
Moreover, we understand exactly how to serve those needs with cutting-edge tools and services. These tools are integral to streamlining your business operations and enhancing security.
Today, numerous enterprise partners benefit from our Authentication as a Service solution, with billions of verification messages passing through 1500+ networks annually.
To start using our cutting-edge user authentication service and rest assured that your business and client data is securely protected, simply reach out to us today.
We're waiting for you. 
(1) LANCK Telecom internal source
---
About LANCK Telecom
LANCK Telecom is an international carrier, offering wholesale Voice and SMS termination, fraud prevention and enterprise solutions to hundreds of partners worldwide. With 20+ years in telecommunications, we operate on 5 continents with more than 1,200+ active partners. 
Our team is composed of 200+ people located all around the world – in the USA, Cyprus, Hong Kong, Georgia, Spain, Russia, Latvia and in regional offices across Europe, CIS, Middle East, Africa and Latin America. LANCK Telecom is a member of major associations, including those in the fight against fraud, such as the i3 forum and CFCA. We're also a signatory of the Code of Conduct and an associate member of the GSMA organization.