Aug 3, 2021
Enterprise Telecom Solution – Why Does My Business Need One?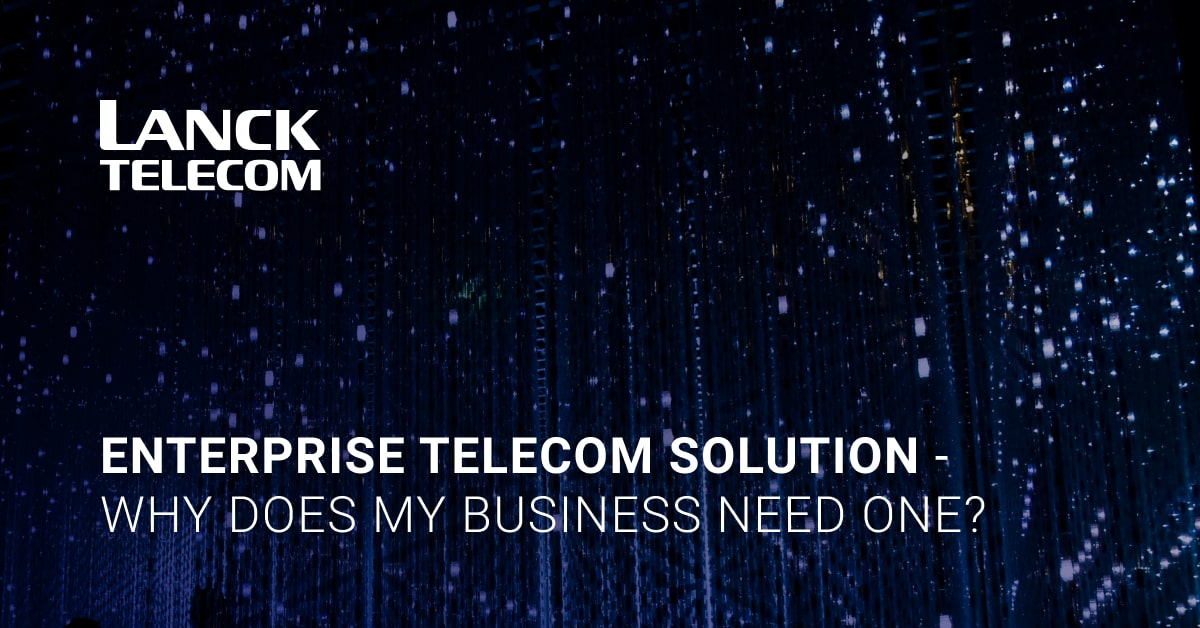 'What is an enterprise telecom solution and why is it necessary for my business? I don't operate in telecommunications, so I definitely don't need one.' Before we can explain why a telco product will help your business even if your business doesn't operate in this sphere, we first need to quickly define what an enterprise telecom solution is.
What is an Enterprise Telecom Solution?
An enterprise 
telecom solution
is a network service for communication between a business and its customers that allows the business to efficiently make calls and send important messages to segments of its audience while protecting itself from fraud.
In other words, a telco business can provide interactive telecommunications services for any business that needs to communicate with its customers in a secure way. 
However, it's more than just communication with customers. It's also about marketing. 
Regardless of whether we are talking about a top telecommunications company or a barbershop that wants to notify its clients of a discount on haircuts, interactive telecom solutions play an important role in marketing for most businesses in 2021.
But what exactly does that entail? For a big business, it entails many things.
Let's consider how companies like eBay, Apple or Delta Airlines communicate with their customers. 
What types of messages do they need to send to their customers?

 

How do they send them?

 

What problems might they face? 
These are all much bigger questions than we may, at first, realize. Let's take a look at them in detail. 
How Can a Business Benefit From an Enterprise Telecom Solution?
Firstly, even if your business doesn't operate in the telecom enterprise market, it's likely that you are using some type of enterprise communications services to contact your customers via message, voice or other means. 
If you're not, it may be time to start.
Businesses communicate with their customers in many ways, including SMS, push notifications, emails, calls, messengers and more. 
What info do they send their customers? For example:
Transactional messages

Flight delays

Package arrivals

Customer service

Promotional messages to specific segments of their audience
And many other timely and important pieces of information. 
In rare cases, receiving an email, SMS, push notification or even a phone call from a business can be obnoxious, but in most cases, it's extremely useful for the customer and highly beneficial for the business. 
The convenience of receiving a push notification early in the morning that a flight has been delayed an hour can save a customer from a massive headache. 
In return, the company builds brand loyalty.
Since this communication is integral to a business' well being and it's becoming an integral part of an effective marketing strategy in 2021, it's equally important to have a telecom solution that can support this communication and ensure secure, fraud-free communication with clients.
How Can an Enterprise Telecom Solution Help My Business?
An enterprise telecom solution can provide three key pillars of support for your communication with clients. 
Sending important information

Authenticating users

Protection from fraud
The loyalty you build with your customers can quickly dissolve if your customers receive fraudulent messages or calls in the name of your business. 
Without an enterprise telecom solution that you can rely on, your communication with your customers could damage your relationships with customers and your brand if it's corrupted by fraudsters.
Additionally, as always is the case, your communication channels can simply be taken advantage of by fraudsters looking to earn profits by racking up charges on your behalf.
An enterprise telecom solution can ensure quality, efficient, costly and fraud-free communication with clients that doesn't backfire on you when fraudsters try to abuse it.
This is why an enterprise telecom solution is essential for even non-telecom businesses.
Let's now look at what exactly an enterprise telecom solution provides your business. 
What Exactly Does an Enterprise Telecom Solution Provide? 
As we mentioned above, an enterprise telecom solution offers the three pillars of support:
Sending important information

Authenticating users

Protection from fraud
It's time to look at each one in detail.
Enterprise Telecom Solution for Communication
With the LANCK Enterprise Telecommunications solution, you can contact your customers anywhere, anytime.
There are several ways to do this:
Voice
Voice is not dead. Many businesses still need to call clients directly. With our enterprise telecom solution for voice calls, you can:
Communicate with your customers by voice

via premium quality voice services for call centers, conference calls, PBX and OTT.
SMS/Messaging/Notifications: Omnichannel Messaging Platform
LANCK offers an Omnichannel Messaging Platform that can take your user engagement to the next level. 
With it, you can deliver your messages via: 
SMS

:

Send messages via the channel with the best open rate. Perfect for time-sensitive alerts that should be delivered and read ASAP. SMS can be used as an ultimate fallback option for other channels. 2-way SMS messaging supported.

Push Notifications

:

Add an engaging and interactive messaging channel to your Android or iOS app. The cheapest option for instant communication. Boost your app engagement, measure performance and increase user activity.

Messengers

:

Reach clients in the messaging apps they already use. Get closer to customers and solve their problems in their native communication environment. Choose from multiple chat apps like

WhatsApp

,

Viber

,

Telegram

and

VK

.

RCS

:

Join the future of mobile messaging – use rich media such as images, QR codes, interactive buttons and audio to deliver contextual messages and improve user satisfaction – all the features of the most popular messaging apps rolled into one native messaging app.
This kind of complex mobile marketing has several benefits:
Reduce Churn by 19%

:

Customers are far less likely to drop off if you engage them and cater to their needs, sending the right message with the right offer
Cut Sending Costs by 47%

:

Use the cheapest delivery method first, providing an SMS fallback in case the message can't be delivered via other channels
Increase the Number of Active Users by 32%

:

Some of your existing customers are "sleeping". Re-engage them with personalized messaging and turn them into loyal clients
The omnichannel solution provides powerful tools for timely and cost-effective enterprise communication. 
With this enterprise telecom solution, featuring multiple delivery options, you can build your own customer journey that suits your individual needs and desires for your marketing campaign.
To read more about our Omnichannel Messaging Platform in detail, have a look at this page. 
Enterprise Telecom Solution for User Authentication
These days, user authentication is a simple and effective way of improving the security of your system that is almost standard protocol for most businesses.
With authentication services, you can:
Send one-time passwords to authenticate your users and verify their actions, ensuring the security of your system

Make the registration process easier and improve sign-up rates
Here are some ways you can authenticate your users with the LANCK Telecom enterprise solution:
SMS Verification

:

The classic verification channel. Deliver one-time SMS codes to authenticate clients.

Voice Message:

Users receive an incoming call – a robot repeats a password several times.

OTT Verification

:

The most cost-effective verification solution. Send one-time passwords to your clients via the internet using over-the-top services. Authenticate users via messengers, chat apps, social networks and other channels. 
Unlike SMS, over-the-top services don't have strict limitations on the number of symbols, thus allowing for longer messages and clearer instructions. 
All of these methods can be combined in any order to create a layered verification flow.
Enterprise Telecom Solution for Fraud Protection
There will always be someone who tries to use your services at your expense – to either scam your business or your clients. 
An enterprise telecom solution protects you via several fraud-protection layers:
Phone Number Check

: We check the phone number provided at the sign-up stage and decide whether to allow the sign-up, block it or allow the sign-up and send an alert

Inbound Call Protection

:

This

protects your business and call centers from unwanted calls. Filter out marketing, fraudulent and other calls you don't want to receive.

SMS Firewall

:

This protects your business from fraudsters, who generate false SMS requests. We make sure your SMS services are only used with the right intentions. 

Outbound Call Protection

:

We alert the caller if they are trying to dial a suspicious number. This feature can be integrated by retail carriers and calling services to protect their customers from fraud. It can also be utilized by call centers to prevent outbound calls to premium and paid numbers left in contact forms by fraudsters.
Simply put – an enterprise communications service can protect your business. With it, you can be proactive and protect your business from fraud before it happens. 
While fraud is inevitable, its volume can be limited. An enterprise telecom solution protects you from fraudsters and helps you avoid financial and reputational losses.
Can My Business Integrate With an Enterprise Telecom Solution?
The answer is simple – yes. There is no specific knowledge required from you or your team to integrate an enterprise telecom management system for any project. 
Since enterprise telecom solutions wouldn't be useful if they were too costly and incompatible with current systems used by most businesses, they must be both affordable and compatible with the framework currently used by any company. 
At LANCK Telecom, we offer ready-to-use APls & SDKs and other simple tools available in the client's online account for the seamless integration of our solution into any project of any scale.
As a result, businesses can freely communicate with customers in the way they want, without worry, leaving the technical side to us. 
Why Choose LANCK? Your Enterprise Telecom Solution
If you're looking for an enterprise communication service for your business, you may be asking yourself:
What is the best telecommunication company to choose for this service? 

What makes an enterprise telecom solution the best? 
A reliable telecom solution must offer several simple features: it must be user-friendly, cost-efficient, fast, transparent and provide secure communication. 
However, these features must be robust and reliable. 
This frees a business to connect with clients anywhere, anytime without compromising their brand reputation, client relationships, or their bottom line. 
Instead, it enhances them. 
The team behind Lank Telecom stands firm in the belief that there is no such thing as a shortcut in life. 
When partnering with LANCK Telecom for your enterprise telecom solution, you can rest assured that your enterprise communication service will not be compromised in any of these areas.
You'll be receiving the most robust, efficient and effective enterprise telecom solution available on the market from one of the best telecommunication companies around today.
Here are a few reasons many enterprises depend on LANCK Telecom to provide their enterprise telecom solution:
Global coverage

: Businesses can

send messages and verify users in 190+ countries of the world

20 Years' Experience

:

Since 2001, LANCK Telecom has gathered expertise in everything that relates to Voice, Messaging and Fraud Protection

Transparent Pricing

:

Pay only for what you use. No hidden fees and capital expenses

Flexibility

:

Create different combinations of delivery methods according to your needs

Cost Efficiency

:

Save on bulk messaging and user verification using the best delivery method first

Fraud Protection

:

Stop fraudsters before they enter your system and do any harm
Beyond offering one of the most robust services on the market today, the team behind LANCK Telecom operates with an eye for the future, identifying potential new problems that our clients may face, new means of problem-solving and new ways to apply and advance our technology.
In this way, we can ensure our clients are always equipped with state-of-the-art technology that is steps ahead of the fraudsters.
If you're interested in learning more about LANCK's enterprise communications service you can download our brochure here or get in touch with one of our team members at contact@lancktele.com. 
Which Businesses Can Benefit From an Enterprise Telecom Solution?
Almost any business with clients can take advantage of an enterprise telecom communication solution. LANCK's solution is suitable for businesses in many sectors, including:
Public Sector/Government

: Send urgent notifications and keep your community informed about emergency situations, enhance the user authentication system on government websites and more

Entertainment

: Let the fans know about upcoming events, offer early bird tickets, send discount and promo codes, and more

Finance and Insurance

: Verify transactions with one-time passwords, notify customers of scheduled transactions, update customers on customer service inquiries and more

E-Commerce and Retail

: Send abandoned cart notifications, send order confirmations, notify of new in-stock items, promote special offers and sales and much more

Transport

:

Inform passengers of departure and arrival times, update them on delays, offer discounts for certain destinations and dates and send booking confirmations

 
And many other sectors! 
If you need to communicate with clients or you think it's time to take your current enterprise communication system to the next level, write to us at contact@lancktele.com and one of our team members will respond promptly to help you get started with the LANCK Telecom enterprise solution today.
Final Words
With today's technology, your clients expect fast communication in all aspects of their lives, including between family and friends and with the companies they buy from.
This communication should also be secure. 
Without a fast and secure enterprise telecom communication channel between you and your clients, your business can be losing out on opportunities to expand its customer base, strengthen client relationships, boost brand reputation and raise the bottom line. 
If you're ready to get started with an enterprise telecom solution today, get in touch with our team at contact@lancktele.com. We'll gladly guide you through the very simple and easy-to-follow integration steps to start utilizing the service with any project imaginable and begin growing your business today.