Aug 5, 2021
Protect From Telecom Fraud Attacks – Fraud Management System (FMS) by LANCK Telecom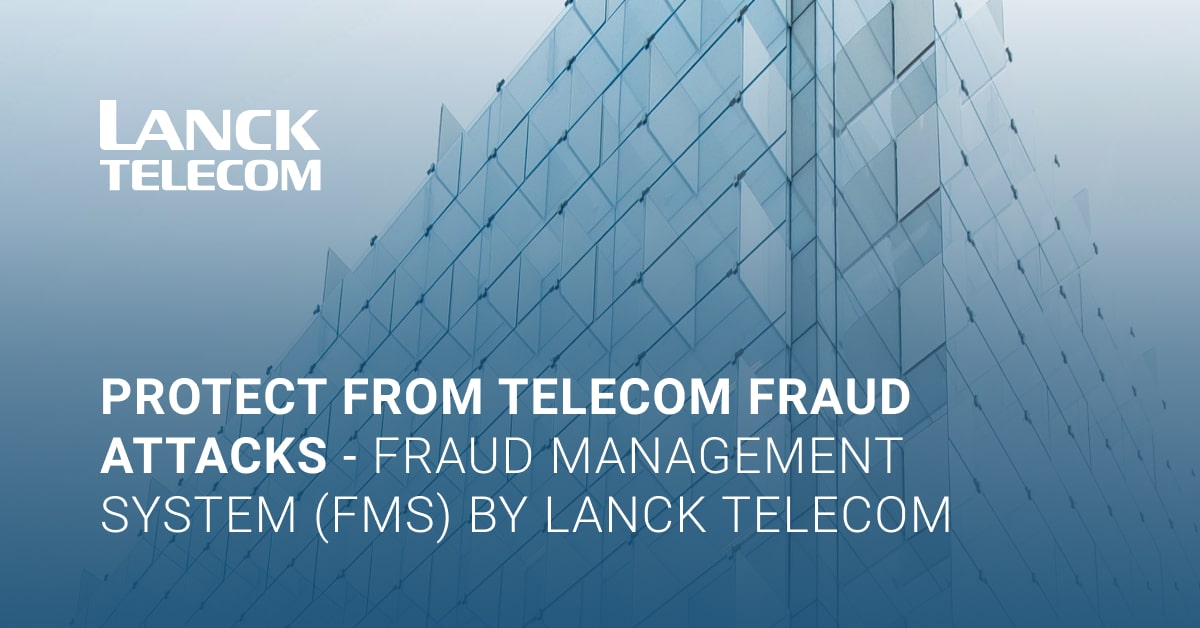 What is telecom fraud and how can we prevent it? The answer to this question evolves over time. Businesses and telecommunications companies have been facing this problem for ages. 
Moreover, there have been many milestones along the path to detecting and preventing telecom fraud. 
One recent and significant milestone was in 2018, and it is one that LANCK Telecom immediately supported by following up with one of the market's most robust and advanced telecommunications fraud prevention solutions. 
And today, this service is FREE to all businesses who partner with LANCK.  
But first, to better understand this telecom fraud analysis tool and the context in which it operates, we need to quickly answer the questions, "What is telecom fraud?", or, "What is communications fraud?".  
What is Telecom Fraud?
Telecom fraud
is an attack on telecommunications services with the intention of stealing money from the telecommunication service provider and/or its customers. 
There are many types of fraud in the telecom industry. 
Fraudsters use these strategies to steal money from the service providers and, on rare occasions,  from the customers receiving calls. 
The problem of telecom fraud isn't only one of annoyances and obnoxious spam calls. It is a financial problem for both parties. 
Depending on your business, telecommunications fraud can stall specific targets like subscription rates.
Without a telecom protection service, it can damage customer relationships, brand loyalty and a business's bottom line.
So, we want to know how to prevent telecom fraud. 
Are There Companies That Provide Software That Does Telecom Fraud Prevention?
Do you work in telecommunications? Are you worried about telecom fraud? 
Many of our readers want to detect and prevent telecom fraud to protect their business and their customers. 
But is it possible?
Fortunately, there are companies that provide software that does telecom fraud prevention. 
But, how exactly do these anti-fraud management systems do it?
This is an interesting question. 
Technology, these days, evolves at a lightning-fast pace. Yet, there has been significant room for improvement in telecom fraud detection techniques for decades.
Most fraud management in the telecom market these days utilizes a standard set of protocols that have been fighting telephone fraud in a similar way for decades. 
While they are effective in detecting and preventing fraud to a degree, they fall short in many areas:
CDR uploading

(instead of Real Time statistics): It's time consuming and inefficient

Lacking the efficiencies of Machine Learning (ML) and Artificial Intelligence (AI)

Most require the cumbersome step of contacting a manager to block calls
And many more.
So, of all the tools out there, which telecom fraud detection solution should you be using in 2021? 
What is the best telecom fraud analysis tool available today that will let you sleep at night, knowing your business and clients are protected? 
What is the Best Telecom Fraud Analysis Tool?
As we mentioned above, the telecommunications market has been on a quest to stop telecom fraud for ages. 
One milestone on this path was in 2018, when the ITW Global Leaders Forum established a Code of Conduct – a document establishing a collectively agreed-upon set of principles for detecting and preventing telecom fraud, which LANCK Telecom fully supported. 
Fortunately, LANCK Telecom had already set themselves the task of taking telecommunications fraud prevention to the next level.
Shortly after, LANCK released one of the best telecom fraud analysis and prevention tools called the Fraud Management System (FMS) – a complete approach to telecom fraud prevention.
In short:
The
Fraud Management System (FMS)
is a fully-tested deep-learning telecom fraud prevention service for
retail
and
wholesale
operators who want to protect their networks from fraudulent activity and eliminate direct, operational and reputational losses
.
While we can't definitively say which is the best tool for your specific business needs, we can explain in very simple language what sets LANCK Telecom's FMS apart from the competition.
How Does the FMS Prevent Telecom Fraud?
Here are a few of the FMS key features: 
REAL-TIME SIGNALING LEVEL PROTECTION:

Automatic detection of the telecom fraud attack parameters and immediate alerting with granular blocking

DEEP-LEARNING ALGORITHMS:

Detect highly disguised telecom fraud attacks on retail and transit traffic and identify sophisticated fraud patterns

CUSTOMIZABLE PROTECTION POLICY:

Adjustable alert & block policies and configurable high-usage rules to suit your specific needs

EASY INTEGRATION:

With fast out-of-the-box deployment and no CDR uploads, capital expenses or complicated procedures

COMPATIBILITY:

Compatible with

any voice switch. Capable of SIP signaling and analyzing SS7 and accounting messages
The FMS Prevents Telecom Fraud Using 3 Methods:
Proactive Monitoring
This method is used to detect fraud preparations on an Operator's network

LANCK Telecom maintains a database of high-risk ranges 

Fraudulent call attempts from/to these high-risk ranges are alerted to the Operator and can be barred for a predefined period
Behavioral Analysis
The in-house machine learning algorithms allow detection of even well-disguised fraud attacks on hubbing & retail traffic and to eliminate them with minimal possible losses

This method is applied in real-time 

After the parameters of fraudulent traffic are determined, they are alerted to the Operator 

Correspondent traffic can be barred for a predefined period
Custom threshold-based rules
The operator is allowed to configure any real-time threshold-based rules to monitor the usage and end-customer behavior. 

Once the threshold is reached, the incident is alerted to the Operator. All correspondent active calls are broken. 

Correspondent traffic can be barred for a predefined period.
Final Words
The telecom industry is in a never-ending pursuit to stay steps ahead of the fraudsters. 
The LANCK Telecom Fraud Management System is a leap forward in this market, preventing telecommunications fraud and protecting businesses from direct, operational and reputational losses. 
"The telecom market suffers from different types of fraudsters trying to parasite on carriers' networks and use them in incorrect, dishonest ways," says Alexei Yanson, the managing Director for LANCK Telecom. 
"Annual losses, worldwide, come close to $17 bln and are growing. FMS is our contribution to the fight against global fraud. We believe that our system will help operators prevent financial and reputational damage."
"Besides this, it will add to building mutual trust within the industry. The implementation of our solution with industry leaders has already demonstrated results that have exceeded all our expectations".
LANCK Telecom's FMS is currently used by 70+ operators and enterprises who are protecting their businesses from fraud in real-time and saving over $5 million monthly. 
You can get more information on this robust Fraud Management System on our product page.
To join LANCK Telecom and start protecting your business today, feel free to contact us directly at fms@lancktele.com.
Other Articles That May Interest You: