Aug 16, 2021
You Lose 5% of Your Income to Fraud! Stop Telecommunications Fraud Now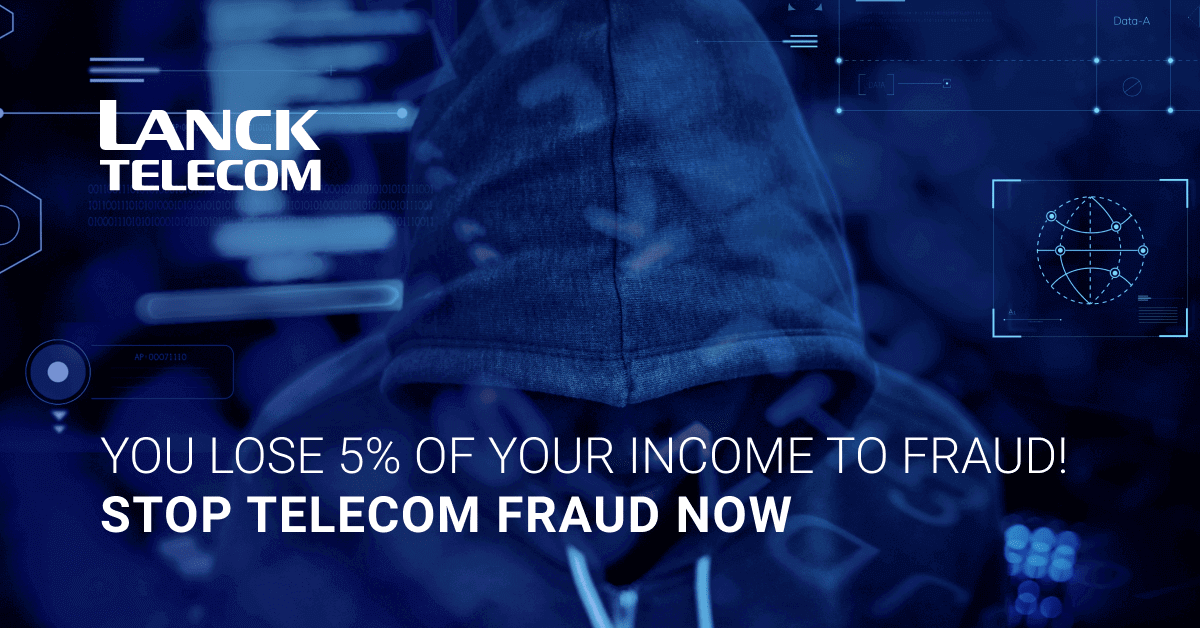 Are you really losing 5% of your income each year to fraud? How is it possible? Even if you aren't working in telecom, businesses are susceptible to telecommunications fraud. 
According to the Association of Certified Fraud Examiners (ACFE), institutions lose 5% of their income each year to fraud. This includes telecommunications fraud. Let's take a look at how this happens and how we can stop it.
Our economies are becoming more reliant on telecommunications technology. This has also been accelerated amid COVID-19, as we rely more and more on voice and other technologies that allow us to work and carry out other important duties remotely.
The response from telecom fraudsters in recent years has been strong. 
Let's look at some statistics:
Voice fraud attacks have increased by 350% in the past four years.

90 voice fraud attacks occur every minute in the US

1 in every 770 calls in the US is a voice fraud attack.
'But I'm not a telecom company, so this doesn't concern me'. 
Many enterprises think that because they aren't working in telecom, then they aren't susceptible to any significant telecom fraud attacks. 
However, this is also a misconception. This 5% includes institutions that aren't working in telecom, but lose income to business telecom fraud each year.
In 2021, in the age of COVID-19, fraudsters are not only increasing the volume of their attacks – they're also getting smarter, applying new telecommunications fraud schemes to industries that will provide the greatest return on their investment:
In 2019, the banking industry saw the most

significant increase

in telecommunications fraud.

Throughout COVID-19, fraudsters have

increased their attacks

on the insurance and financial industries.

In 2019, one Pindrop insurance customer saw the attempted fraud loss average climb from $5,000 to $500,000

Insurance fraud amounts to $40 billion in losses per year – which means that telecommunications fraud costs the average US family $400-$700 per year in the form of higher premiums
Whether you work in telecommunications or not, most enterprises rely on some sort of telecom service (ie. call centers).
Many businesses not working in telecom use telecom services for marketing – connecting with their customer base and building relationships and brand loyalty (think package delivery notifications, promotional notifications, customer service follow-up calls, flight delay notifications, etc.).
Your business may very well likely be losing 5% of your income each year to business telecom fraud attacks.
So, what can we do to stop this? 
Many companies hire a company to integrate a telecom enterprise solution with a Fraud Management System (FMS) to protect their business from fraud attacks. 
Telecom Fraud Management System (FMS) – What it is and how it works
We want to know how to prevent telecom fraud. 
The sad truth is that, for decades, telecom enterprise solutions have not evolved and advanced as fast as other areas of technology, such as smartphones, leaving many businesses exposed to telecommunications fraud. 
Traditional fraud management systems are expensive to customize, take at least a month to integrate with the default settings of a business's current network and ultimately, they protect businesses from most, but not all fraud attacks. 
While some protection is better than no protection, this has left many businesses exposed to telecommunications fraud. 
Problems with traditional fraud management systems include: 
Legacy tech systems that aren't as precise and fast as modern ones.

Expensive customization: the costs sometimes outweigh the potential damages from fraud.

Time-consuming integration.

Protection from most (not all) fraud attacks using old methods like threshold-based rules and historical lists of fraudulent numbers.
Such problems have been the standard in telecom enterprise solutions with fraud protection for decades – until recently.
Fortunately, there have recently been some significant advancements in telecom fraud management systems that provide businesses with much greater
telecom fraud protection
at lower costs with almost
seamless integration
into the default settings of a business's current network.
In other words, you're just in time. Let's look at the key features a telecom enterprise solution should have in 2021.
Stopping Telecommunications Fraud – Key Features of a Telecom Enterprise Solution
With so many companies offering telecom fraud protection, it's important to select a company that has you fully protected, at an affordable rate, offering seamless integration into your native system for any project of any scale.
If you choose to find a telecom enterprise solution to protect your business, here are 5 key features you'll want to be sure its telecommunications fraud management system includes:
1. Customization to Enable Unique Policies
Customization is a very important feature. This allows you to define your own vision of high usage. Here's what you will need to be able to customize:
Threshold-based Rules:

these

can be defined in an FMS system based on a wide range of parameters: call attempts, revenue, ASR, ACD, etc. They can also apply to specific A- and B-numbers, countries, destinations, or certain number ranges.

Blacklists and Whitelists:

It's important to be able to create your own lists so specific phone numbers can be excluded from the FMS analytics. List changes can be done by yourself in a user-friendly interface.

Attack Severity Rules

: This allows you to choose the type of responses your FMS system gives to different threats based on their severity levels. As such, the system will react differently to critical, high, moderate or low severity attacks. You should also be able to set blocking ranges for specific periods of time when you don't want only alerts to be sent.

Enabling a Voice Message as a Fraud Alert

– This is a popular feature. When someone within your business tries calling a fraudulent number, they hear an IVR warning that they're dialing a suspicious number. If they want to proceed – they can dial a button and continue with the call.
The company providing your telecom enterprise solution should be able to accommodate, or at least take into account, your specific requests for menu add-ins at little to no extra charge.

2. Easy, Affordable, and Fast Integration
Having modern telecom fraud-fighting technology is wonderful, but if your business has to pay exorbitant prices and wait months for integration, it's not a realistic option for you.
This is why you need a fraud management system that offers easy integration. 
A modern telecom enterprise solution should offer:
Fast integration

: integration time should take one week from your inquiry to access (traditional systems take one week to collect information)

No hardware investment nor CDR uploads

: CDR uploads delay traffic analysis. 

Real-time analysis

: this is especially important for protecting against advanced fraud schemes. This instantly blocks any attacks from doing substantial damage.

Compatibility

: a modern FMS should work alongside your existing solutions. This is a key aspect of fast integration

No external data exchange

: this ensures that security and privacy are never a problem. A modern FMS provider uses SIP or some other signaling data, which means they never see your customer data.

Delivery options

: a modern FMS can be traffic-based, cloud-enabled or integrated on your business premises.

24/7 customer support

: including initial documentation explaining all features & functions of the system and hands-on demonstrations on how to finetune the rules you maintain.
These features will prevent you from feeling overwhelmed throughout the integration process and will ensure the security of your fraud protection system going forward.
3. Machine Learning (ML)
Machine Learning (ML) is key for identifying telecom fraud patterns and spotting well-disguised attacks early on. 
Traditional telecom fraud protection systems don't use ML. They rely on threshold-based rules & historical lists of fraudulent numbers, which makes it almost impossible to detect new tricky fraud scenarios on time, leaving the business vulnerable.
Although it's rare, a top provider may have a strong team of statisticians, mathematicians and analysts working with a volume of data behind the scenes to fine-tune the ML component of the fraud management system to ensure timely and effective telecom fraud prevention.
4. Global Enterprise-Specific FMS
If you are an enterprise operating on a global level, you face some unique and highly dangerous threats. You need an FMS that has enterprise-specific blocking.
Consider the following case: A hijacked PBX sends traffic to Fiji and is hit with half a million dollars in fraud. The enterprise then receives the bill and scoffs at it, thinking, "Actually, we have no business in Fiji, so this must be a mistake."
To avoid bad publicity, your provider may foot the bill and thus you may avoid paying it. 
To avoid this situation altogether, be sure you choose a telecom enterprise solution with an enterprise-specific telecom fraud protection component within it.
In this, you can upload the phone numbers of businesses you want to protect, i.e. outbound call center numbers. 
When these businesses try calling internationally to suspicious ranges, the call will be intercepted. 
An IVR message will say, "You are dialing a suspicious phone number. Are you sure you want to continue?". They will then be instructed to enter "6543" (or another set of digits) if they really want to call Fiji, and will be connected.
Companies That Provide Software for Telecommunications Fraud Prevention
What is the best telecom fraud analysis tool? 
The most secure, convenient and cost-effective choice is to partner with a telecom company offering a telecom enterprise solution with all the features, characteristics and bonuses mentioned in this article.
We are proud to say that LANCK Telecom is a leader in the evolution of fraud management systems for businesses and enterprises. We are one of the leading companies that provide software that does telecom fraud prevention.  
Our system incorporates all of the above-mentioned features and characteristics, as well as many others that set it apart from the alternatives. 
We are a top 20 international wholesaler with a telecom enterprise solution that is cleaning up fraud-risky traffic to 10+ large enterprise partners with fast, simple and convenient integration at no extra charge and with no previous knowledge required.
Why Partner with LANCK Telecom for Telecommunications Fraud Prevention?
Besides offering one of the most robust telecom enterprise solutions on the market today, the team behind LANCK Telecom operates with an eye for the future. 
We are positioned to grow our telecom fraud-fighting capabilities and keep our clients protected well into the future for several key reasons:
Familiarity with the Voice Business

: As an international carrier, we are familiar with the damage that telecommunications fraud does. Because of our first-hand experience, we know what the market needs in an FMS solution.

Real-time detection and instant blocking

: This is particularly valuable for businesses using a fraud management system that relies on CDR analysis for telecom fraud detection, which entails significant delays. Each second of delay amounts to increased losses. Instant reaction mitigates these losses. 

We carry tons of Voice Traffic

: This is a critical difference. Being fed a huge volume of traffic data to analyze is important. The volume and diversity of network traffic we're connecting is immense, giving us a wealth of big data and attack statistics.

Machine Learning (ML)

: ML is perhaps the most important success factor in advanced telecom fraud prevention. In addition to the statisticians supporting our ML capabilities, the volume of data we receive daily gives our ML team key insight on how to improve the system for our partners' benefit.

Multiple Data Sources

: In addition to on-line signaling data for ML learning, we also collect non-real-time SS7 CDRs. Our CDR analysis is fed into Machine Learning to ensure telecommunications fraud patterns are always recognized and to reduce the number of false positives.    
Final Words on Stopping Telecommunications Fraud
Technology has become an integral part of our daily lives in 2021, especially in the times of COVID 19. 
These days, keeping customers updated on flight delays, package deliveries, customer service tickets, sales, event dates and more important information is key for maintaining strong customer relations and nurturing brand loyalty. 
And with this, comes the threat of fraud attacks. 
Perhaps you're already using a telecom enterprise solution. Or perhaps you haven't heard of this technology yet.
In any case, partnering with a company that can provide a modern solution with robust telecom fraud detection techniques can ensure your communication is secure and that your business is protected from financial and reputational losses related to telecommunications fraud.
To learn more about LANCK Telecom's fraud protection services for businesses and enterprises, have a look at this page.
To get set up with a telecom fraud management system for your business today, feel free to get in touch with our team at contact@lancktele.com. 
One of our sales representatives will be in touch today. We're waiting for you.