Mar 16, 2021
6 Reasons to start using our anti-fraud solution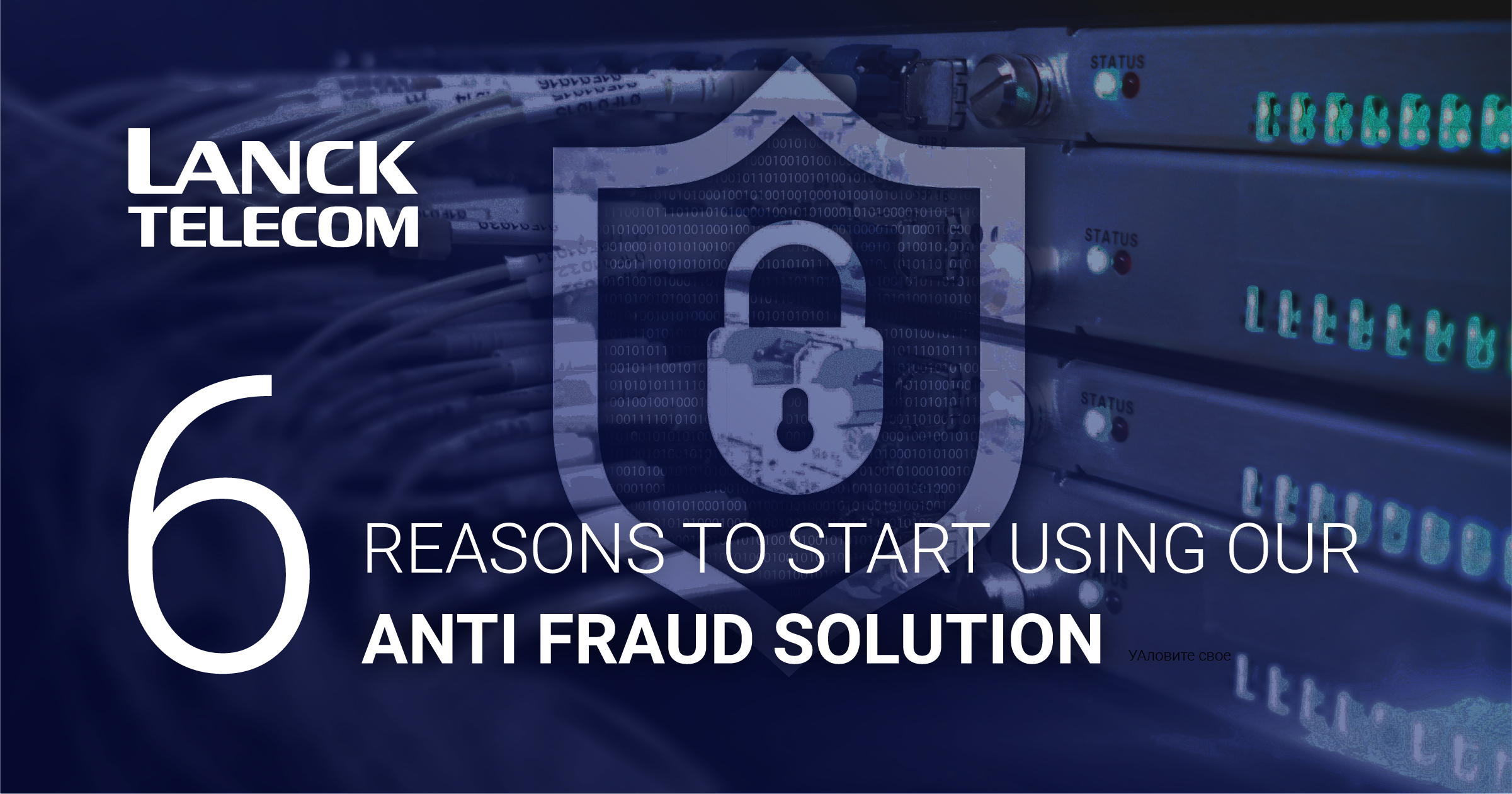 Since the start of the pandemic, telecom traffic has increased across the globe. In fact, LANCK Telecom's traffic in 2020 has doubled as compared with 2019.
Unfortunately, increased traffic also means an increased number of fraud attacks, especially different forms of International Revenue Share Fraud (IRSF) and calls to Premium Rate Services (PRS):
Unauthorized access fraud (PBX hacking, IP-PBX hacking, SIM-swap fraud, subscription fraud, etc.);

Conference call fraud;

Roaming fraud;

Wangiri and Wangiri callbacks;

Enterprise callbacks fraud (Wangiri 2.0),
and different types of unsolicited traffic (Robocalls, Scam calls, Call bombing) as well.
These types of fraud affect enterprises, mobile & fixed line operators, leading to their huge financial and reputational losses.
Moreover, there is a tendency to an ongoing sophistication of fraud. Fraudsters disguise their attacks better and better. They also develop new scenarios and even new types of fraud.
To effectively protect enterprises and operators from all the mentioned existing and developing fraud types, LANCK Telecom has created its cutting-edge Fraud Management System (FMS).
There are 6 key advantages of LANCK Telecom FMS which make the system unique on the market:
Our real-time FMS is signaling-based. Its high-speed computational algorithms allow to detect statistical patterns of fraud even on call attempts which haven't yet reached B-subscribers' phones – and block such fraudulent attempts proactively. It is a very important feature in case of Wangiri attacks.

LANCK Telecom is a major international transit operator which on a daily basis deals with a huge amount of different traffic (enterprise, mobile, proper, transit). Due to LANCK Telecom's unique position our FMS:

is trained to detect a big amount of different fraud types, identify tendencies to fraud sophistication, and new fraud scenarios;

analyzes traffic from many similar service providers thus is able to detect fraud attacks, which are rarely identified by separate providers (because of its low frequency for each of them).

The FMS is able to detect even very well-disguised generated traffic. This concerns not only statistical patterns of traffic, but also situations when fraudsters hijack calls dynamically (i.e. via test calls you will not find the presence of a hijack).

Our FMS is specially designed for the protection of enterprises against a very harmful novel fraud type – Wangiri 2.0. LANCK Telecom was the first on the market to draw attention to this type of fraud. You can learn more about Wangiri 2.0 here. 

Very high performance of the FMS: an almost complete absence of undetected or late-detected attacks and an extremely low false positive rate (due to our know-hows in statistical analysis and machine learning). An extremely low number of false alarms is the reason why all the clients, who use our full version of FMS, have blocking actions set to "block traffic automatically" for all the fraud-alerts of the system. This indicates a high level of trust in our FMS from the clients.

Very fast and easy integration (an operator should just route its traffic to the IP-address of the FMS) without any additional actions from the client: the FMS immediately starts traffic monitoring & protection.
These key advantages of the LANCK Telecom FMS are the main reason why more than 70 operators & enterprises use our solution.
Please see our next article, where we show our case studies on protecting from Wangiri 2.0 and other IRSF scenarios.
Follow us on social media and don't miss any news! To learn more about the LANCK Telecom FMS and the specific benefits for your business, contact us now. You can contact us at contact@lancktele.com