Oct 3, 2023
LANCK Telecom Wins Four Awards at Antonio Meucci Global Telco Awards 2023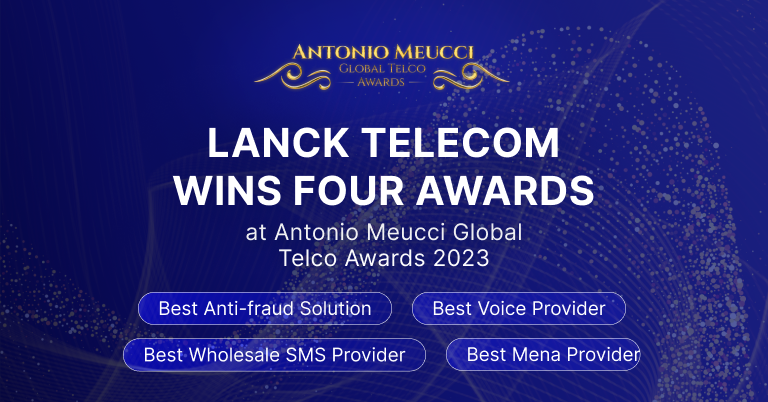 We're absolutely delighted to announce our victory in four categories at the Antonio Meucci Global Telco Awards 2023.

LANCK Telecom secured victory in the following categories:
Best Anti-Fraud Solution
Best Voice Provider
Best Wholesale SMS Provider
Best MENA Provider
As an international carrier and service provider, these achievements mean a lot to us. They highlight our commitment and dedication to innovation and exceeding customer expectations.
Throughout our journey towards these milestones, each of our work areas — Voice and SMS termination, international services, and FMS — played an integral role in earning us recognition at the prestigious Antonio Meucci Global Telco Awards.
Reflecting on these achievements, Igor Skutsenya, Senior Business Development Manager at LANCK Telecom, shared his sentiments regarding our FMS. He also extended heartfelt gratitude to the entire team, acknowledging their hard work:
"I would like to thank all of the LANCK team… We dedicated a lot of time, a lot of effort, and a lot of resources to our work. That [award] is what we have to celebrate. Our system is truly one of the best, if not the best, out there"
We would also like to thank the entire MoreThan160 team. Thank you to Andreas S. Constantinides, Maria Pelivanidi, and the Judges' Committee. Your appreciation and kind words mean a lot to us.
Our dedication to innovation and serving the telecom industry drives us forward as we celebrate this success and reap the rewards of our hard work. We can confirm: LANCK Telecom's journey towards further innovation will only continue!
About the Antonio Meucci Global Telecom Awards
An Award institution, that aims to restore the Name of the real father of Telephony, Antonio Meucci, and at the same time to promote the real innovators of the telecommunications ecosystem, based exclusively on their achievements.