Oct 26, 2023
LANCK Telecom Certified as 100% GLF Code of Conduct Compliant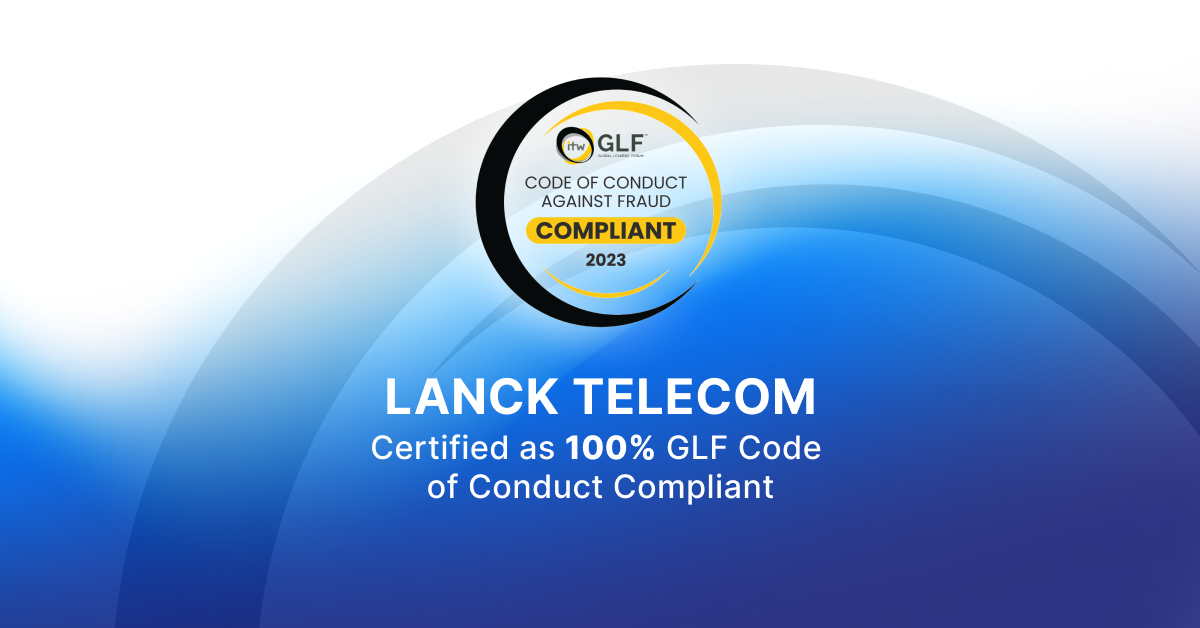 This year, LANCK Telecom once again demonstrated its anti-fraud expertise, achieving a perfect score of 100% on the GLF Code of Conduct Against Fraud.
By processing billions of international calls with our AI-based system, LANCK Telecom ensures the safety and reliability of our partners' businesses. We continuously update our anti-fraud system, implementing new features like flash call detection and SMS fraud prevention.
This has enabled us to achieve full GLF Code of Conduct compliance, with a 21/21 score, a milestone we also accomplished last year, with 19/19.
We extend our sincere appreciation to the ITW Global Leadership Forum for their ongoing efforts in promoting excellence throughout our industry. LANCK Telecom's inclusion on this list is proof of an unwavering commitment to fraud prevention.
Annual GLF Report Insights
The GLF's annual report reveals the state of international telecom fraud, highlighting critical industry issues:
Fraud has increased at organizational and managerial levels, with 92% of carriers saying that fighting fraud was a "top" or "strategic" priority — the highest percentage on record.
75% of carriers report additional regulatory scrutiny resulting from unwanted traffic, while 72% report increased regulatory action. Today, carriers agree that stronger industry collaboration is paramount to reducing unwanted traffic.
The percentage of operators experiencing an increase in SMS fraud has nearly doubled since 2022, 61% (2023) and 35% (2022). This significant growth can be attributed to the increase in AIT, the introduction of regulatory restrictions on voice, and a lack of technological safety measures.
These telecom trends underscore the importance of proactive measures and strong collaborations with trusted anti-fraud experts.
LANCK Telecom's Anti-Fraud Solutions
At LANCK Telecom, we are deeply committed to addressing the issue of fraud that impacts the telecom industry. We continually analyze our landscape, adapting our anti-fraud solutions to meet the industry's current challenges.
Our Fraud Management System operates in real-time, successfully blocking over 60 million fraudulent calls monthly and preventing 800+ attacks daily. Today, it's the choice of protection for over 150 operators and enterprises.
By employing in-house developed mathematical models and ML algorithms, our FMS detects even the most well-hidden fraud attempts with an unparalleled 99.995% accuracy.
Aiming for Future Success
LANCK Telecom consistently shares its technologies and expertise, actively participating in various industry anti-fraud events and providing our platform to partners terminating international calls via our services.
We also extend our congratulations to all the international operators included on this year's list. Together, we can make a difference.