Oct 31, 2023
Is eSIM the Future of Telecom?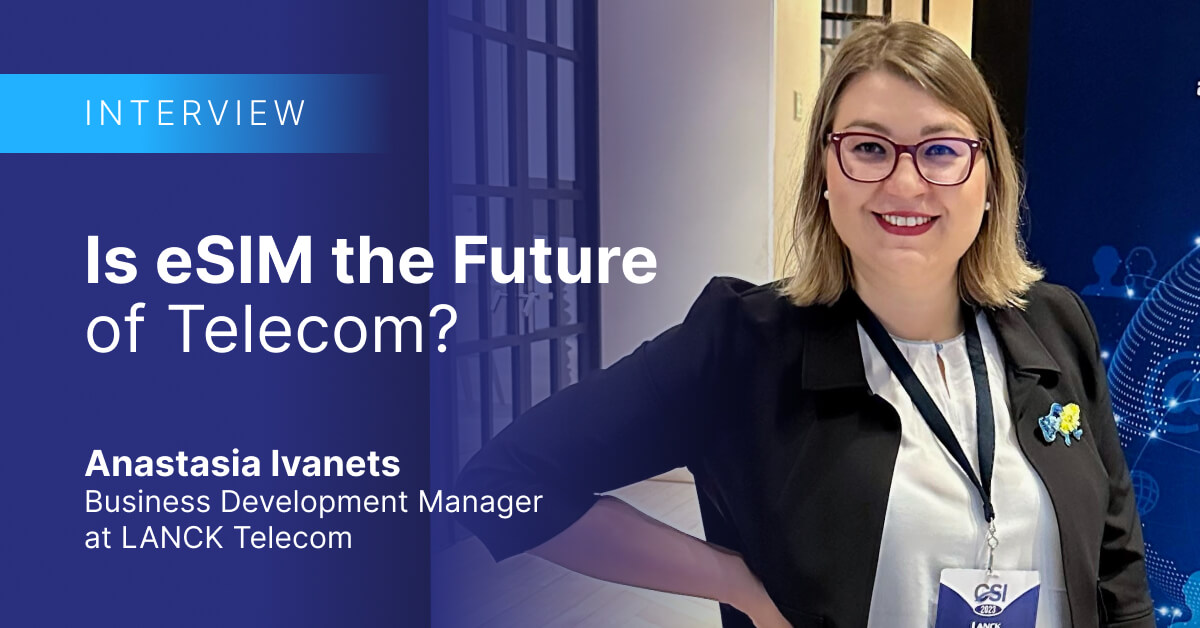 The telecom industry evolves continually, introducing new solutions year after year. One of the latest trends is the advancement of eSIM technology.

For further insight, we spoke to Anastasia Ivanets, a seasoned eSIM technology expert with over 8 years of experience as Business Development Manager at LANCK Telecom.
"I absolutely love everything new, and telecom? Well, it continually presents something new.
Telecom is a constant whirlwind of innovation that continues to surprise me!"
Drawing from her vast experience and knowledge, Anastasia shared her insights on current telecom and eSIM trends, along with her future forecasts.
eSIM: A Global Perspective
To understand eSIM perspectives, let's start by defining what eSIM actually is.
What is eSIM?
An eSIM is essentially a SIM card integrated into your smartphone's motherboard.
The beauty of eSIMs lies in their convenience. When switching carriers, there's no need to replace a physical card. Instead, you can simply download and set up a new cellular plan directly on your phone.
Of course, the advantages don't stop there.
What are the benefits of eSIM?
eSIMs offer numerous benefits for both business and everyday life:
Convenience
Your team members can easily access business eSIM plans from the comfort of their homes or offices, eliminating the need to visit carrier stores, set up local carrier roaming, or physically swap SIM cards.
A Better SIM Card

eSIMs offer all traditional SIM card services: optional roaming, SIM applet functionality, and multi-International Mobile Subscriber Identity (IMSI) service.

Business eSIM plans provide your team with voice, data, SMS, or combined plans, similar to traditional SIM cards.

An Array of Possibilities

While traditional SIM cards limit you to 2 active cards in your phone, eSIM allows you to have up to 99 downloaded eSIM cards simultaneously. You can activate 2 of them and easily switch to others whenever needed.

For example, Anastasia has 17 eSIM plans on her phone, ensuring she's always prepared for a business trip. Anastasia doesn't worry about leaving her SIM card at home or buying a new one abroad; all eSIMs are available to activate anytime. In a world of traditional physical SIM cards, this would be impossible.

Ease and Flexibility
With eSIM, there's no need to spend at least an hour buying a physical SIM card when traveling to a new country. It's simple and convenient; already in your phone and activated upon arrival.
Environmentally Friendly

Anastasia Ivanets generously shared her collection of SIM cards accumulated over 8 years in telecom. Her collection consisted of numerous cards.

Traditional plastic SIM cards take decades to decompose. Consider the environmental impact that frequent travelers might have.

In contrast, eSIMs offer a sustainable solution, remaining in your phone throughout their use and allowing you to download carrier plans when needed.
What are eSIM Perspectives?
Anastasia highlighted the increasing prevalence of eSIM in our daily lives. For instance, since 2018, all iPhones are eSIM compatible. Additionally, since 2022, all iPhones in the USA market have used eSIM exclusively, meaning there's no longer a slot for a plastic SIM card.
People recognize the convenience of eSIMs, making them a popular choice for both businesses and everyday life.
Anastasia predicts a promising future for eSIM technology, stating, "I strongly believe that eSIMs are the future. Their usage is growing rapidly, and within the next five years, eSIMs will become the norm."
Latest Telecom Trends in Africa and LATAM
During our conversation with Anastasia Ivanets, she mentioned recent business trips to Africa and Latin America (LATAM). So, we asked if these trips were related to eSIM and how these regions are adopting new technologies like eSIM. Here's what she told us:
LATAM
In LATAM, many countries have embraced advanced telecom technologies, including eSIM and 5G. Coverage challenges still exist in the Amazon region, but Anastasia believes they will soon be fixed.
MNOs in the region are primarily driving this transformation, bringing global telecom trends to LATAM.
Africa
While Africa has yet to embrace 5G fully, it's actively experiencing the eSIM revolution. Communication runs smoothly, though transferring large files may require patience.
"It will take some time, but Africa will soon fully adapt to new technologies, including 5G and eSIM." — Anastasia Ivanets
Africa has prominent MNOs contributing to the adoption of these new telecom trends. LANCK Telecom proudly played a role in this journey and received the CC-Global Award in 2022, earning the title "Africa Regional Operator of the Year."
LANCK Telecom — eSIM Revolution Participant
With over 20 years of telecom expertise, our team is excited to actively participate in the eSIM revolution by offering LANCK Telecom's eSIM service.
Our eSIM service is supported by a team of dedicated professionals who work tirelessly to deliver the finest eSIM solutions to businesses worldwide. Available 24/7, 365 days a year, they stand by your side, ensuring you fully maximize the benefits of eSIM technology.
Here's what our eSIM offers your business:
Services: Mobile data
Coverage: 450+ networks
Technologies: 3G / 4G / 5G coming soon
Packaging: SIM / eSIM / Profiles (IMSI)
Custom price plans for end subscribers (with separate billing)
Convenient API for clients or Dealer's Module (Web Control Center)
+ We can manufacture eSIM with your IMSI, with our IMSI, and bundled.
Want to become a part of the eSIM revolution? Let's do this together!
Let's Work Towards eSIM Success Together
At LANCK Telecom, we strongly believe in the power of teamwork. Our diverse team of experts, both men and women, share a common goal: to provide the best telecom solutions, just as we would expect for ourselves.
"Our people are the strongest part of LANCK Telecom."
— Anastasia Ivanets
Our dedication extends to understanding and fulfilling our clients' unique requirements. Our managers invest effort in understanding your culture, communicating not only in English but also in your native language.
As Anastasia Ivanets suggests, there are four principles we strongly believe in and recommend to telecom newcomers:
Never lie to your clients
Embrace and respect the culture of the people you work with
Go beyond selling products; offer a personalized approach and attention
Simply be yourself — people will naturally want to work with you
If you're eager to connect with Anastasia and seek her insights on eSIM and LANCK Telecom, schedule a meeting, and let's get started!