Aug 22, 2022
Spotlight on Africa – Key Region for LANCK Telecom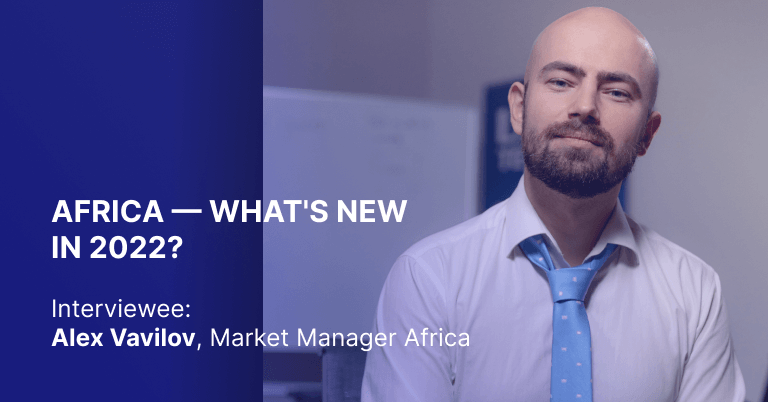 LANCK Telecom was recently awarded "Africa Regional Operator of the Year" at the prestigious CC-Global Awards (CCGA) 2022. To follow up on this recognition, we would like to present you with an overview of telecommunications in Africa in 2022 and LANCK Telecom's development in the region.
Telecommunications in Africa – What's New in 2022?
We previously focused on the African telecommunications market in an article written before the pandemic, in 2020. To provide the most up-to-date information, Voice Market Manager of LANCK Telecom, Alexander Vavilov, reached out to our regional partners and customers to talk about the pandemic's impact on telecommunications in Africa, current trends, and predictions for the nearest future.
Impact of the Pandemic on Telecommunications in Africa
Firstly, most of our African partners agreed that the pandemic caused a significant decline in voice traffic volumes on African networks. This was triggered by a drop in business activity and a decrease in population mobility. With the pandemic easing, some of our African MNO partners have reported that traffic volumes are still not back to pre-pandemic levels.
Competition From OTTs and the Importance of Data and VAS
Another factor causing the decline of voice traffic volumes could be the rise of OTT services in Africa, especially for international voice businesses.
Hence, our regional partner operators agreed that new growth opportunities in the African telecommunications market often lie outside of Voice and SMS, in the area of value-added services (VAS), data, and apps for international voice calls.
Several partners singled out mobile money services as an area with high growth potential.
African Telecommunications Fraud Landscape
Telecom fraud has been on the rise worldwide, according to the 2021 CFCA Report. The African region, particularly, has been heavily affected because it has a higher termination rate than many regions of the world. This gives fraudsters a greater incentive to illegally bypass termination charges via SIM boxes and other methods.
Most of our African partners agreed that grey routes are the most bothersome fraud type, with SIM boxing, International Refiling, and Wangiri also prominent in the region.
A Look Into the Future: 4IR
One of our partners advised operators to start developing products for the Fourth Industrial Revolution (4IR). They emphasized the importance of strategically fitting web 3.0 into new products, embracing blockchain technology, and shifting into mobile money services with a unique approach.
At LANCK Telecom, we always have our pulse on the present and our eyes on the future, so we are thankful to our partners for offering their insights and predictions.
LANCK Telecom in Africa: Present and Future
Alexander Vavilov explained that the past 2 years have been quite eventful for LANCK. There have been numerous positive trends, despite the overall drop in voice traffic volume on African networks caused by the pandemic.
Growth in Voice
Since 2020, we have made many new Direct Interconnects with operators and local Tier 2 players in Africa. Despite the fierce competition from OTTs, our regional voice traffic grew by 32% between 2020 and 2021.
Growth in SMS
Our regional SMS traffic growth has been even more impressive, rising by a staggering 189% from 2020 to 2021. We now offer all types of SMS in Africa, including A2P, P2P, and 2-way SMS. Today, in Africa*, LANCK Telecom has:
47 Voice Interconnections to MNOs and PTTs via hubs
19 direct Voice Interconnections
11 direct SMS Interconnections to MNOs and mobile hubs
11 MNOs and PTTs using our AI-powered Fraud Management System
*These statistics do not include the North African region, as we consider it a part of MENA. 
Alexander noted that our partners rely on a select group of international carriers. We are proud that LANCK Telecom is at the top of this list for many African telecom operators. We are the carrier of choice for both Voice and SMS due to the quality and flexibility of our services, our competitive pricing, wide coverage, VAS, and quality of customer support.
Numerous regional MNOs choose LANCK Telecom as their all-in-one African telecommunications partner for Voice and SMS traffic termination as well as fraud protection & bypass protection.
Innovation and Quality: LANCK Telecom's FMS
We strive for innovation and the highest quality standards with our VAS.
In 2021, we further improved our Fraud Management System (FMS). It detects and prevents fraud in real time on all inbound and outbound voice traffic with 97% accuracy, eradicating financial and reputational losses caused by fraud.
Our FMS is powered by AI and combines ML algorithms with big data analysis. The tool comes as an add-on service for all of our partners. It's free to use in its basic version. Our FMS is popular among our new African telecom partners, with 11 MNOs and PTTs currently using it.
All-in-One Solution
Moreover, 'Package' solutions are one of LANCK Telecom's strengths. With bundles for Voice, SMS, Fraud Protection, and other products, our partners can optimize their resource distribution. In general, many of our projects and deals have involved African destinations with regional partners as well as big international partners.
We are also assisting MNOs in expanding their wholesale business by offering existing and new interconnections in the African region, and by redirecting new international traffic from gray routes to fraud-free channels.
LANCK Telecom's Plans for the Future
We are eager to continue developing our services and outreach for telecommunications in Africa, a key region for LANCK Telecom.
For Telcos
In the coming year, we hope to make new Direct Interconnections in the countries of the Sub-Saharan Francophone region. We have hired new Francophone staff members and are already expanding our presence there. We are open to online and in-person meetings with new African telecom partners.
We are also developing our FMS to ensure our African partners are protected from all SMS fraud prevalent in the region.
For Enterprises
LANCK is also looking to expand its telecom services for enterprises in the African region.
Mobile banking in the region has become more important in recent years. This sector has been well-served by our omnichannel customer communication platform. Our clients seamlessly communicate with customers and verify transactions via high-quality SMS, OTT, Voice, and RCS channels. Our communication platform can be white-labeled and tailored to our partners' needs.
Let's Meet
As the pandemic is easing, we're really glad to once again meet with regional partners and old and new friends offline. Alexander Vavilov, our Voice Market Manager, is excited to meet you at the following upcoming events:
Book a meeting with Alexander Vavilov at these events here. Just click "Schedule a Meeting" on the event you'll be joining.
As telecommunications in Africa changes, one thing remains constant – we do our best to provide the most competitive and premium-quality Voice, SMS, and Fraud Protection services for our African partners.