Nov 12, 2021
Voice 2.0 – Rebirth for Telcos and Enterprises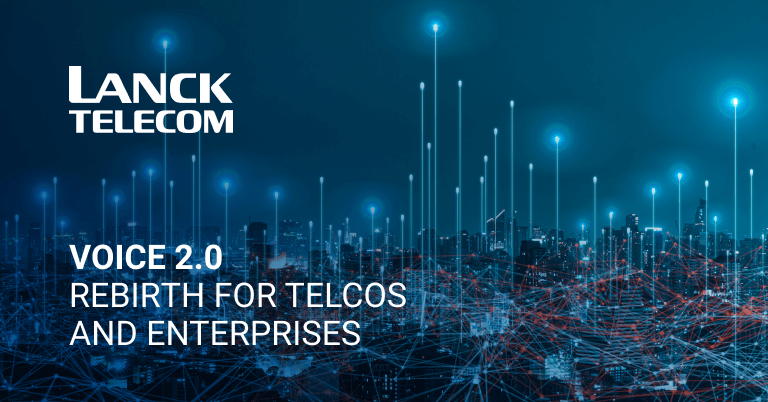 The landscape of the telecommunications industry has evolved much to the same degree as other technologies have in the 21st century. Let's discuss the current era of telecom we call Voice 2.0.
The emergence of OTT apps, VoIP connectivity, the growth and expansive power of DID numbers, the onset of COVID-19 and the subsequent economic downturn along with many other factors have brought about changes that most people inside and outside of the industry never anticipated.
Many anticipated steady declines in voice traffic and other areas of business. For example, OTT apps have eaten up a major share of voice traffic around the world, leading many to expect a drastic fall in demand for traditional voice traffic.
Many of the mobility restrictions and economic impacts of the COVID-19 pandemic are still in full effect in most places around the world. As a result, roaming traffic has steadily declined.
But the situation isn't so simplistic. 
These environmental shifts have given rise to a demand for new services, an evolution of traditional services and new opportunities for traffic wholesalers, transit operators, MNOs, MVNOs and others.
There are more opportunities in voice and messaging for some telcos in 2021 than there were ten years ago. Not all, but many in the telecommunications industry can swiftly adapt to the new environment and expect a bright future ahead.
Let's have a look in detail.
Challenges
Developments in the telecommunications market have resulted in some unexpected and interesting new products and new levels of demand, almost all of which have been unexpected.
Let's look at the challenges that have emerged over the past several years.
COVID-19 – Economic downturn and the effects
Aside from a rise in telecommunications fraud amidst COVID-19, the subsequent economic downturn also directly impacted the day-to-day operations of telcos around the world in terms of demand for services. 
COVID-19 – Impact on Telcos
At first, the outlook was bleak for telcos. MNOs were hesitant to commit to new wholesale contracts with various infrastructure operators.
Many infrastructure operators (tower companies and energy service companies (ESCOs)) expected a drop in new MNO contracts. 
Network expansion suddenly appeared to be much riskier.
Additionally, lower-income customer groups who experienced the most damage at the onset of the COVID crisis were expected to limit or even stop purchasing airtime and data bundles. 
Roaming traffic steadily decreased as a result of mobility restrictions and many in the industry expected voice demand, in general, to drastically fall.
However, it turns out that many key global telecom players like Orange, Equinix, Digital Realty and others fared better than the S&P 500 in the initial economic crash from February to March 2020. 
And in the end, MNOs have adapted to the new circumstances. 
The rise in consumption by high-income customers, which has mainly been driven by increased data consumption, partially offset declines in other segments.
In the end, many mobile carriers and fixed PSTN carriers have experienced decreasing traffic. However, many service providers offering conference services, services for enterprises and other telco services have experienced an uptick in voice demand throughout the whole pandemic.
A Rise in Voice Demand
As many people moved away from cities and metropolises amid the work-from-home arrangement, data density spread out and many networks became less congested.
Network usage skyrocketed and many telcos reported big spikes as the volume of voice calls increased exponentially in many countries around the world. 
To meet demands, operators around the US even began borrowing spectrum from competitors to increase capacity.
In the UK, telcos increased their capacity and began offering unlimited minutes and provided anonymized data to help governments and their constituents track the spread of COVID-19.
Overall, to this day, many telcos have experienced a rise in voice demand, resulting in what some call a voice 'rebirth', or 'Voice 2.0'. 
COVID-19 – Impact on Enterprise Voice Traffic
Additionally, because many enterprise customers generally prioritize their telecom services over other expenses, many telcos anticipated that the potential decline in telecom services would generally be lower than other spending.
In the end, telcos have experienced an increase in traffic volumes from enterprises. 
This is mainly because it is becoming increasingly important for businesses to be in contact with their end customers more often. This is an important aspect of enterprise business these days, in general, regardless of the COVID-19 pandemic.
There has, in general, been a rapid development of enterprises with new needs amidst a new economic environment. 
This has resulted in increased demand for various old and new voice and messaging services, such as DID numbers, which has greatly impacted the business of traffic wholesalers and transit operators.
Despite the initial impact of COVID-19 and the fears it brought along with it, the landscape has shifted and demand for voice traffic remains as strong as it was before the pandemic.
Another factor that impacted the voice landscape was the introduction of Origin Based Rating (OBR). 
This was initially a response to revenue losses due to falling voice demand. It also gave rise to a demand for new products and services.
Origin Based Rating (OBR) – Increased demand for robust telco services 
As demand for voice has changed over the years and OTT apps have taken up a major share of voice traffic, many regions around the world have introduced new policies in an attempt to offset these losses. 
One major protocol that was introduced to achieve this goal was Origin Based Rating (OBR). 
Origin Based Rating charges for voice termination based on both the origin and termination of the call. The terminating operator (often mobile) adds a surcharge to the mobile termination rate (MTR) according to the country of the call's origin.
For example, calls terminating in the EU which originate outside of the EU are charged higher rates than calls that originate within the EU. 
However, OBR rates can be circumvented via call line spoofing of the A-number, which is a form of fraud and often results in disputes.
Operators are now largely faced with preventing A-number manipulation while acquiring the necessary technology to comply with OBR. 
Many factors have affected operators' abilities to effectively and accurately implement OBR. 
This includes the UK's exit from the EU, regulatory level changes like STIR/Shaken (a mandatory protocol implemented across the US to prevent robocalls and caller line spoofing) and the exclusion of the UK and US from the EEA zone.
Potentially, more and more countries will introduce OBR and billing schemes will become more complicated.
As a result of these changes, telcos have already seen a rise in demand for complicated routing systems. Their clients need an advanced rate platform, legal background and various technical solutions to prevent A-number manipulation, comply with these new protocols and allow ones like OBR to effectively serve their purpose.
In short, OBR was a response to falling voice traffic which, in turn, created a demand for new advanced services from telcos, somewhat filling that initial void.
Another phenomenon that unfolded in a similar way was the emergence of OTTs and VoIP connectivity. Initially, OTTs stole a major share of voice traffic, but the emergence of this technology, like OBR, has also presented new opportunities.
Over-The-Top (OTT) Apps – Voice challenges and new opportunities
Over-The-Top (OTT) apps utilize internet and VoIP connectivity, allowing people to call friends and loved ones from anywhere in the world at absolutely no cost. 
Because of their convenience and low cost, OTTs have absorbed a major portion of voice traffic all around the world in recent years, resulting in telecom operators seeing a major drop in voice traffic. It turned out to be a big challenge for smaller wholesale players, leading many of them to leave the market in recent years.
Moreover, everyone expected voice traffic to drop. And they were right.
But global international wholesalers like LANCK Telecom actually began receiving greater volumes from operators. So far, we have seen that many MNOs are now sending a greater percentage of their traffic through transit carriers.
Their intention is to optimize their revenue streams and cost efficiency without compromising on quality.
LANCK is also assisting the MNOs expanding wholesale business by offering them existing and new interconnections and redirecting new international traffic from grey routes to official channels.
Additionally, transit operators are leaving the market, resulting in market shares redistribution and increasing traffic for wholesalers.
What's more, telcos have taken advantage of VoIP technology to expand on the use cases of a common form of technology – DID numbers. As a result, demand for this service has also risen.
DID Numbers – Rising Demand for VoIP Services
DID (or 'DDI' in some regions) stands for Direct Inward Dialing. Originally, this technology was used to allow customers to bypass an IVR or automated attendant and directly reach a person or department within a company.
However, today, DID numbers paired with VoIP technology have been expanded to serve a much broader purpose for businesses. 
With VoIP technology, DIDs now allow businesses to acquire multiple (thousands) of numbers with a choice of any local area codes at very little cost. DID numbers offer:
Cheaper termination rates per minute

two-way communication ( incoming and outgoing, voice and SMS, etc.)
Moreover, the benefits of DID numbers are far greater than it may at first appear.
Businesses can use DID numbers to achieve many things:
Improve marketing campaigns

Eliminate the complications of time zone differences

Cut overall costs of acquiring an unlimited quantity of numbers

Greater control and flexibility over who and when you receive calls
And much, much more.
One voice is no longer enough. Demand for DID services is on the rise and becoming a very popular product for enterprise clients. 
Beyond the rising demand for DID technology itself, demand for new technologies to support it also emerged, namely softswitches. 
DID Technology Leads to Demand for Advanced Softswitches
As wholesalers and operators have experienced a rise in the use of VoIP technology, the market developed a need for more advanced softswitches.
A softswitch (short for software switch) utilizes software on top of standard hardware to control phone calls, whereas traditional switching equipment utilizes dedicated, purpose-built switch hardware. 
Such technology is essential for meeting the demands of VoIP connectivity.
To meet market requirements, many telcos need a more advanced softswitch. 
For example, seeing a need for this on the market, LANCK Telecom acquired their own highly advanced softswitch called Cataleya,
Cataleya offers solutions which provide the most intuitive, easily scalable and flexible 360° portfolio of software and hardware communication switching solutions that scale with a company's success.
Cataleya caters to all of the switching and analytics needs of the traditional, cloud communication and UCaaS service providers.
Specifically, it provides the required support that modern, advanced DID connectivity demands.
Updating Cataleya, tailoring it to our needs and redesigning and implementing new features has allowed LANCK to upscale our network with the confidence that we can efficiently handle more traffic (since LANCK is growing).
In general, the past several years have brought on a wide range of such new services that are essential for enterprises and telcos, and demand for them is rising.
One of these developments is the overall necessity of enterprises to partner with a telco. 
Enterprise Telecom Solutions – Essential for the 21st century
Many enterprises have never thought about partnering with a telco. When they hear this idea, they often think, "I don't work in telecommunications, so why would I need this?".
A telco can provide a number of crucial services including communication, fraud protection and more. 
As I mentioned earlier in the article, staying in contact with the end customer is more important these days than ever. Enterprises need to communicate via SMS, push notifications, emails, calls, messengers and more to send a wide range of information to their customers as fast and as conveniently as possible. 
This includes:
Transactional messages

Package arrivals

Flight delays

Customer service

Verification messages (flash calls, Pin2speech, SMS and more)

Promotional messages to specific segments of their audience

General informational messaging with Text2speech capabilities
Businesses also need continued support in terms of more traditional services like business/conference calls, technical/customer support and more. 
Such reliable and high-quality services are as important now as they ever were:
Great rates and high-quality connections with fully guaranteed Fax support

PI (Presentation restricted) and DTMF support

A 

fraud management system

to minimize financial and reputational losses.
And much more.
These products and services are essential for enterprises to thrive in the current environment.
Partnering With the Right Telco
The emergence of OTT apps, the economic downturn from the COVID-19 pandemic, the birth of VoIP technology and all the related shake-ups have resulted in a new and almost unfamiliar landscape in telecommunications. 
This 'Voice 2.0' rebirth is full of opportunities.
It's incredibly important for enterprises and telcos to partner with the right company – one that can provide a wide range of services at a low cost with easy integration, guaranteed quality and robust customer support. 
Telcos and enterprises need a partner that they can trust today and tomorrow.
It's also important to partner with a firm that can not only meet current needs but can provide products and services that evolve with the times. A telco must provide quality, robust solutions into the unforeseen future as circumstances change. 
LANCK Telecom – Meeting demands of today and tomorrow
The team behind LANCK Telecom knows the profile of enterprises and telco needs extremely well in the modern age. We provide all of the specific necessary high-quality products and services at a low cost with extremely easy integration and robust customer service.
Our decades of experience working in the telecommunications industry has given us an unparalleled insight into the products and services that enterprises and telcos need. 
Our team brings together a wide range of experience in telecommunications, engineering, machine learning and more to develop cutting-edge technology for enterprise solutions, telcos and fraud management for both.
We can help MNOs and local partners outsource cost-reduction and fraud protection solutions. We can bring new revenue streams and additional margins for new services. And much more.
We can help enterprises streamline their communication with end customers while mitigating financial and reputational losses due to fraud.
We would be happy to discuss the cooperation in areas like Voice, SMS exchange, DIDs, RCS, Fraud Management System, VAS and much more with you today. 
If you have any questions, feel free to contact us here. One of our specialists will be in touch. 
If you would like to partner with LANCK Telecom, feel free to get in touch here. One of our product specialists will be in touch with you today.