Nov 26, 2021
eSIMs for Business – Connect to the World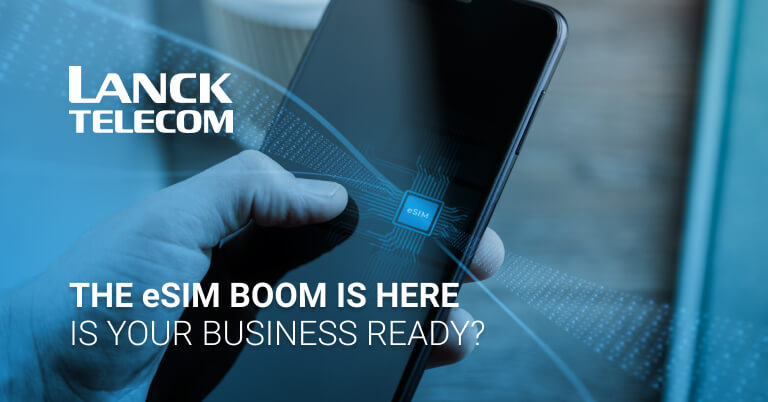 Each year, business teams and their products rely more and more on internet connectivity for communication and provisioning smart products and services.
Whether we're talking about remote work or smart devices, having seamless international connectivity is essential. While connecting to the internet from pretty much anywhere is relatively easy, traditional roaming solutions for businesses still pose problems. eSIMs for business offer a simple solution.
eSIMs are convenient, reliable, and offer the same functionality as SIM cards, plus more. With eSIMs for business, corporate travelers enjoy seamless high-quality connections to local carriers from the moment their plane lands at their destination. And it can be set up with a few taps on a smartphone from home, before you leave.
What is an eSIM Card?
An eSIM is a SIM card that's attached to the motherboard of a smartphone. It allows you to download and set up a cellular plan with any carrier offering eSIM services. With eSIMs, there's no need to change a physical SIM card when you switch carriers. Instead, you just download a new eSIM plan with a new carrier directly to the eSIM in your phone. It's a convenient and reliable solution for businesses and consumers who need international roaming solutions.
eSIM technology also plays a role in IoT products. The technology is embedded in many cars, home appliances, smart grids and other IoT products that communicate with other devices via an internet connection.
How Does eSIM Work?
With an eSIM-compatible device, you can purchase and install an eSIM profile from an eSIM carrier for a specific region. Once you have the profile installed on your eSIM and set up on your device, you simply purchase voice, data or SMS plans from that provider as needed. Each step can be completed online from your smartphone.
What's more, you can connect to multiple carriers at once, allowing you to simultaneously subscribe to different plans for different needs – when you're home, on a business trip, or working remotely.
eSIM vs Physical SIM – Are there any differences?
The main difference between eSIM vs physical SIM cards is that an eSIM is fixed into a phone's motherboard, while a SIM is a physical card that can be swapped in and out of a phone. While they both offer the same functionality, eSIMs allow you to set up a cellular plan with a new carrier remotely.
The convenience of eSIMs for business is apparent. Your team can set up and activate a cellular plan for any country right from their home or office. They can then enjoy instant connectivity in that country from the moment they arrive on a business trip. There's no need to set up and pay expensive roaming fees to a home carrier, nor carry another SIM card for the local country.
You just activate the plan, instantly connect and are on your way with a new eSIM phone number. Any existing cellular plans on your installed SIM card or other eSIM carrier plans can remain active and be used simultaneously.
You can even assign specific contacts to different eSIM carrier plans, allowing you to contact different people from different plans (and the respective phone numbers).
How We Got Here – History of eSIMs
Every smartphone has a SIM card in it – a Subscriber Identity Module card. SIM cards first appeared in 1991 and were about the size of a credit card. Today, they're about one cm long or smaller. The key part of a SIM card is an IC chip called a UICC. This stores all of the crucial information like authentication parameters, authentication keys and subscriber credentials.
They provide a robust security layer for service providers to prevent unauthorized users from gaining access to their networks.
In other words, it's what allows you to access your carrier's network to make calls and send messages.
Shortly after physical SIM cards became small enough to swap in and out of devices with ease, consumers started buying local SIM cards when visiting foreign countries. Instead of paying for expensive roaming services, now all you have to do when you arrive is stop into a local carrier, purchase a SIM card, pop it into your phone and enjoy access to the local network.
As the Internet of Things (IoT) emerged, SIM cards suddenly took on a major role in enterprise operations around the globe as well.
IoT and the Birth of eSIM
Many IoT technologies around the world, like gas and electricity grids, smart homes, logistics services and smart cars, rely on SIM cards to communicate and share data with other devices. But, the SIM cards in these products must be provisioned accordingly, sometimes from distant regions of the globe. Often, entire devices or their SIM cards must be replaced.
Provisioning, replacing and updating SIM cards remotely can be a financial and logistical problem.
By 2010, the GSMA introduced the embedded SIM (eSIM) and embedded UICC (eUICC) to serve IoT (Internet of Things) products. eSIM technology offered a solution, allowing enterprises to provision their service profile remotely and turned out to be a game-changer for the market.
By 2016, with lobbying from Apple and other key figures in the industry, the GSMA accepted the use of eSIM in consumer mobile phones as well, extending the convenience to consumers and business travelers.
Today, eSIMs have become a convenient roaming solution for businesses and a key piece of technology for some IoT products.
eSIM for Business
Apple and other phone manufacturers recently started producing devices equipped with eSIMs. If it's a recent model, it likely has eSIM functionality. If you have such a phone, you can purchase, download and set up a cellular plan for almost any country in the world, right from home. All you need is an internet connection.
Today, eSIMs for businesses offer enterprises a high-quality, convenient and cost-efficient means of keeping their workforce connected from anywhere in the world. With a company eSIM plan, an employee on a business trip can enjoy seamless connectivity from anywhere in the world and stay connected with colleagues at all times.
But the benefits reach beyond convenience. Here are 8 benefits of using eSIMs for business.
8 Benefits of eSIM for Business
The immense benefits of eSIMs for business include:
1. Convenience
Your team members can connect to the eSIM for business plan from the comfort of their home or office, without physically going to any carrier points of sale, setting up roaming with their local carrier, or swapping SIM cards.
2. Same Features as SIM Cards
eSIMs provide all of the legacy services of physical SIM cards such as roaming, if desired, and the same SIM applet functionality, all with a multi-International Mobile Subscriber Identity (IMSI) service.
3. Voice, Data, or Both
With an eSIM for business plan, you can provide your team with voice, data, SMS or combined plans – just like with a SIM card.
4. Peace-of-mind
Having immediate access to a local network upon arrival offers peace of mind. You know your team members will have a high-quality, affordable connection automatically from the moment they arrive at their destination.
5. Quick Localization
When a team member travels to another country with an eSIM for business plan set up on their phone, their phone will easily switch to the local CSP for data and voice. When they arrive, they'll simply need to turn on the cellular plan set up on their eSIM and the phone will connect automatically.
6. Separate Business & Personal Calls
Your team members can keep their personal plans with their personal numbers active and usable while also using their eSIM-for-business number. As long as their original SIM card is installed and active, they can make and receive calls and messages via either one, as needed. For example, they can use their SIM card for personal calls and messages and their eSIM for business calls and messages.
7. More Than Phones
With eSIMs, your team can connect with more than just their smartphones. eSIM plans can be installed in other devices to bring all of the above connectivity options to tablets and other smart devices.
8. Try and Buy
eSIMs for business make "Try before you Buy" much easier and more convenient for enterprises. You can easily try new services from eSIM companies like 5G, larger subscription plans, connectivity boosts, virtual numbers and more before deciding to buy them.
+ More:
Can't be lost or damaged
Size and compatibility: even your smart-watch may have an eSIM
Difficult to hack
Easy to locate if a phone is lost or stolen
eSIMs save mobile workforces a lot of time and energy. But eSIM use in IoT is worth mentioning as well. eSIM benefits play a key role in products like smart home appliances, smart cars, electricity grids and more.
Benefits of eSIMs for Business in IoT
Many people rely on IoT products and services in their day-to-day lives and in the future, this reliance will only grow. Such devices rely on communicating and sharing data with other devices via an internet connection, provided by a SIM or eSIM card.
Industries that already depend on IoT technology include:
Traffic management
Smart grids
Smart buildings/homes
Environmental monitoring
Smart cities
Industrial, agricultural and commercial management
Supply chain management
Here are a few of the functions IoT serves in these industries:
Tracking valuable equipment and tools remotely
Monitoring conditions in facilities, cities and worksites
Boosting supply chain and logistics efficiencies
Offering remote support to specialists via augmented reality
While some of these aren't fully developed industries (augmented reality), many of them are. And eSIM technology makes the provision of these services easier, faster, more efficient and more cost-effective.
Advantages of eSIMs Over Physical SIMs in IoT
IoT devices often have a long lifecycle (~15 years). At some point, a company will change networks or connectivity providers due to cellular technology advancements or common issues like commercial disagreements. Eventually, businesses have to either physically replace the devices or change their physical SIMs, which can be challenging.
eSIM technology offers a solution. A carrier-independent OTA platform based on eSIM technology guarantees the business can switch services remotely without undergoing physical SIM swaps or device replacements.
IoT Case Study: Original Equipment Manufacturers
eSIMs are especially important for IoT-based Original Equipment Manufacturers (OEM). They produce IoT-reliant equipment that is eventually shipped off to be used in foreign countries.
These devices need to be provisioned to an appropriate cellular network in their final destination. While doing this with physical SIM cards would entail a significant amount of resources, eSIMs solutions make it possible to do it remotely.
eSIMs for businesses in this sector make many key things possible:
Allow companies to remotely provision devices with optimized network connectivity based on the device's exact location
Enhance control by providing standardized connectivity solutions that are centrally managed from one point across several geographic regions
Streamline operations by simplifying procurement, inventory manufacturing and other logistical processes
The benefits of eSIM for enterprises are undeniable, for businesses with roaming needs and IoT products.
If your business has roaming needs for its team or its products, how do you go about getting eSIM solutions? Who is the right eSIM provider to contact?
eSIM for Business – Choosing a Partner
If you're interested in getting eSIM for your business, it's necessary to partner with a reliable wholesaler. Enterprises need a robust and comprehensive eSIM service that they and their team can fully rely on as the eSIM market develops.
The right partner can provide you with what you need to meet your eSIM demands today, but also the unexpected demands of tomorrow. With 20+ years in the telecommunications industry, LANCK Telecom is an experienced eSIM provider that many enterprises rely on.
LANCK Telecom – eSIM for Business, Today and Tomorrow
LANCK Telecom has set itself apart from the competition in telecommunications by offering cutting-edge technologies that have served telcos and enterprises in all areas of this sector since 2001. This includes voice and SMS transit, business-to-customer communication, telecom fraud prevention, eSIM, RCS messaging, user authentication and more.
As an eSIM provider, our eSIM service is backed by a team of experts in the field, with experience in all areas of telecommunications, available to support your team 24/7/365.
Our eSIM for business offer includes:
WIDE COVERAGE: Coverage across 216 countries and 465 networks with high-quality routes
TECHNOLOGY: Your team can enjoy classic communication technology: 2G, 3G, 4G (LTE)
ALL SERVICES: Our eSIM plans include Mobile Data, Voice and SMS
FLEXIBLE PRICING: Network selection algorithm adjusted to your needs (price-to-quality ratio)
INDIVIDUAL PRICING: Customized price plans
And more.
We offer eSIM packages for businesses with roaming needs as well as advanced IoT products. This includes modern package options with capabilities for light, fast apps and applets that are compatible with any type of corporate product. And much more.
As a result of our experience, we're never caught off-guard by market developments. Our partners rest assured they'll always have the eSIM solutions they need for today and tomorrow.
Connect to the World – Partner with LANCK Telecom today
eSIMs for business offer the same functionality and quality service as physical SIM cards, plus an unmatched level of flexibility, efficiency and cost-reduction that benefits consumers, enterprises and service providers alike.
The benefits of eSIM are undeniable. If you're interested in getting eSIM for your business, or you have any questions, feel free to contact us here. We're always happy to chat.
One of our specialists will be in touch to help walk you through the simple onboarding process today.