Nov 26, 2021
The eSIM Boom is Here – Is your business ready?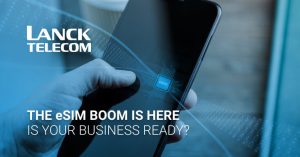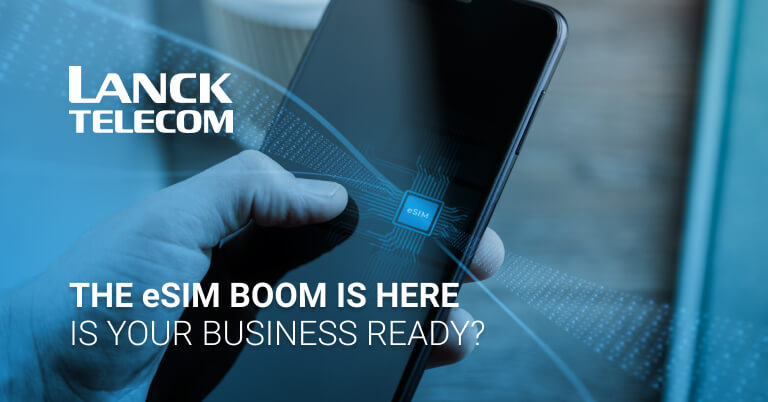 People and businesses rely more and more on connectivity in their daily lives and operations. But the limitations of physical SIM cards are creating a problem that is much larger than may first appear. Demand for eSIMs for businesses and consumers alike is rising all around the world and the exponential growth of this market is undeniable. If a business fights this current, could it sink?
Shortly after physical SIM cards became small enough to swap in and out of devices with ease, consumers started buying local SIM cards when traveling, instead of paying for roaming services.
As the Internet of Things (IoT) emerged, SIM cards suddenly took on a major role in many major business operations around the globe as well.
Many technologies around the world, like gas and electricity grids, smart homes, logistics services, smart cars and more now rely on SIM cards and IoT connectivity and must be provisioned accordingly. But here is where some of the trouble emerges.
In many cases, companies need to provision their equipment from halfway around the world. In other cases, with advancements in cellular technology, entire devices or their SIM cards must be replaced.
The benefits of IoT have come with some costs. This can all be a financial and logistical nightmare.
But, while the limitations of physical SIM cards have become a major problem, they can be easily solved by the emerging eSIM solutions.
To better understand how an eSIM technology can solve these problems, we need a basic understanding of what it is and where it came from.
A Short History of eSIM
Before we start this eSIM journey, I'd like to give a brief history of SIM cards and how we got to the eSIM.
Subscriber Identity Module (SIM) cards first appeared in 1991 and were about the size of a credit card.
Today, SIM cards are about one cm long or smaller.
A SIM card is a small card inserted into a device that serves as an authentication method for a subscriber to access mobile services. In other words, it allows a subscriber to use a carrier's network for voice and messaging services.
Every phone has one.
The key part of a SIM card is an IC chip called a UICC. This stores all of the crucial information like authentication parameters, authentication keys and subscriber credentials.
They provided a robust security layer for service providers to prevent unauthorized users from gaining access to their networks and they were quite convenient for consumers.
The technology behind SIM cards inevitably evolved, and by 2010 the GSMA introduced the embedded SIM and embedded UICC (eSIM and eUICC) to serve Internet of Things (IoT) products.
Most importantly, these new eSIMs allowed service providers to provision their service profile remotely, which turned out to be a game-changer for the SIM market.
eSIMs for Consumer Products
By 2016, with lobbying from Apple and other key figures in the industry, the GSMA accepted the use of the eSIM in consumer mobile phones as well. However, it wasn't until 2020 and 2021 that they started gaining traction.
You may have noticed that Apple and other phone manufacturers recently started producing devices equipped with eSIMs. If it's a recent model, your phone may be equipped with an eSIM.
The adoption of eSIMs could accelerate exponentially and, like many other past technologies (i. e., flip phones), physical SIM cards may realistically become a thing of the past.
How eSIMs Benefit Consumers
An eSIM can only operate on an unlocked phone. Nonetheless, if a consumer has an unlocked phone or gets their phone unlocked, the immense benefits of eSIMs are immediately available:
1. Convenience
If a consumer wants to subscribe to a carrier, they can do so remotely, without physically going anywhere or making any physical changes to their phone.
2. Same features
eSIMs can provide all of the legacy services of physical SIM cards, such as roaming and the same SIM applet functionality, all with a multi-International Mobile Subscriber Identity (IMSI) service.
3. Choices
Consumers can access multiple operators directly from one phone, with the ability to quickly and conveniently switch between carriers as needed.
4. Peace of mind
There are many cases where consumers want access to different carriers, such as in crowded areas, commuting, or when out of their network coverage area (ie. traveling).
Having immediate access to different carriers' networks gives peace-of-mind that consumers are willing to pay for. For many people, the peace-of-mind they get always having a reliable connection, especially in case of emergencies, is more important than loyalty to a carrier.
5. Localization
When a person travels to another country, if they have an eSIM in their phone they can easily switch to a local CSP for data and voice. This is much cheaper than paying roaming fees.
6. Separate Business & Personal Calls
Consumers can easily get multiple numbers with eSIMs from different carriers. They can use one number for business calls and a second number for personal calls.
7. Combine Carrier Services
With an eSIM, users can have separate data and voice plans.
8. More Than Phones
With eSIMs, users can connect more than just their smartphones. eSIMs can be installed in other devices to bring all of the above connectivity options to tablets and other smart devices.
9. Try and Buy
eSIMs make the "Try and Buy" option much easier and more convenient for users. Users can easily try new services like 5G, family subscription plans, connectivity boosts, virtual numbers and more with eSIM devices before they decide to buy them.
This can also translate to greater revenues for service providers as they market and sell more of their services to new and existing users.
10. Much More
Benefits of eSIMs also include:
Can't be lost or damaged
Can be used with a SIM
Small: little devices like smartwatches can be equipped with eSIM
Can store many different cellular profiles
Not easy to hack
Easy to locate (if your phone is lost or stolen)
While it may save consumers a lot of time and money, what about service providers?
Despite some negative implications for service providers, like cutting into roaming revenues, eSIMs provide a wealth of benefits for service providers that balance out many of the losses.
How the eSIM Market Benefits Service Providers
In many industries, market changes often make businesses nervous. However, as new technology solves problems and changes the landscape, this can also bring about new revenue opportunities. This is currently happening in the voice market.
Many of the consumer benefits of eSIMs that I mentioned above will also benefit service providers.
In short, all of the benefits to service providers are in the form of either cost-saving or revenue-enhancing benefits.
Cost-Saving Benefits
Digital distribution: as the need for physical distribution falls, the associated costs will also drop (staff costs, rental costs, facilities and commissions, inflexible lease agreements common in ideal locations).
Streamlined logistics costs: costs associated with the user migration (churn) that service providers already experience will suddenly be less expensive with a digital product.
Revenue Enhancing Benefits
Enhanced customer experience: the remote nature of onboarding with eSIMs makes the onboarding process for service providers much easier. Remote in-app contracting, onboarding and provisioning of services reduce the friction that previously existed in these processes.
Improved rate of customer acquisition: Remote onboarding is faster and opens up new marketing channels (i.e., online), which translates to higher customer acquisition.
Increased inbound roaming: a silent roamer is someone who minimizes or disables their mobile service while abroad to avoid major roaming charges. Service providers around the world will now be able to unlock this segment of customers (estimated to be worth $1.2 billion).
New Marketing Opportunities: marketing models like "Try and Buy" are easier with eSIM technology, which creates greater opportunities for service providers to market and sell more services to new and existing users.
Horizontal market opportunities: new opportunities for provisioning eSIM solutions for various services will arise as the number of products with embedded connectivity increases and a horizontal market emerges.
Longer service: consumers can easily switch between carriers and maintain profiles with more than one carrier throughout the full life cycle of their device.
Regarding this last point, one study showed that consumers would be willing to activate an affordable plan on top of their existing one just to ensure greater connectivity.
As a result, CSPs have a greater opportunity to provide their service throughout a device's entire life cycle, despite temporary churn.
One major use case for eSIMs is traveling. If a person has heard of eSIM technology, they've likely heard how convenient it is for travelers.
Case Study: eSIMs for travelers creates revenue opportunity for telcos
When someone travels abroad, they often purchase a SIM card from a local carrier. Just buying a SIM card with data from a local carrier allows you to connect with friends and family back home via wifi calling apps and other OTT technology.
eSIMs will make this much easier.
As a result, service providers fear a loss of roaming revenue. However, carriers can partner with carriers from abroad to ensure seamless, timely and reliable connections when their subscribers travel. In this, there are new revenue opportunities.
Revenue Opportunity
In short, when a subscriber arrives in a foreign country, their local carrier (in partnership with the foreign carrier) can immediately switch the subscriber's profile to the foreign carrier's network. They can offer a large amount of business to the foreign carrier through such a partnership and, in turn, can collect a share of the foreign carrier's revenue.
The subscriber can immediately enjoy reliable connectivity at a much lower cost than roaming without visiting a local point of sale and installing a new SIM card on their phone.
Both consumers and carriers benefit.
However, eSIM solutions will also benefit enterprises.
Benefits of eSIMs for Enterprises
Many of the fundamental services people rely on in their lives from day to day now depend on IoT connectivity. In the future, this amount will only increase.
IoT connected technology serves many purposes for enterprises and governments, including:
Tracking valuable equipment and tools remotely
Monitoring conditions in facilities, cities and worksites
Boosting supply chain and logistics efficiencies
Offering remote support to specialists via augmented reality
While some of these aren't fully developed industries (i.e., augmented reality), many of the others are. Industries that already depend on IoT technology include:
Traffic management
Smart grids
Smart buildings/homes
Environmental monitoring
Smart cities
Industrial, agricultural and commercial management
Supply chain management
And many more.
The introduction of eSIMs will only make the provision of all of these services easier, faster, more efficient and more cost-effective.
Let's consider a grid operator responsible for delivering gas and electricity services to a city or region.
Case Study: Use of eSIMs in smart grids
A grid operator that is responsible for delivering gas and electricity services to a city or region via a smart grid relies on IoT-enabled smart metering solutions, including Automatic Meter Reading (AMR) and more.
With this technology, they improve efficiencies, improve their quality of service, more efficiently scale their business operations and more efficiently allocate internal resources.
IoT connectivity is now integral to the provision of such gas and electricity services in many regions around the world.
Cellular Technology Advancements Can be a Problem for Enterprises Using Physical SIMS
These devices used in the field can often have a long lifecycle (i.e., 15 years). This means they will have to change networks or connectivity providers throughout their lifetime due to things like cellular technology advancements or even common issues like commercial disagreements.
In these cases, businesses have to either replace devices or change physical SIMs in these devices, which can be a financial and logistical nightmare.
eSIM Solution
A multi-faceted eSIM solution for connectivity solves this problem. A carrier-independent OTA platform based on eSIM technology guarantees the ability to switch services without undergoing physical SIM swaps or device replacements.
What's more, it can be done remotely, which is a key part of this solution.
Case Study: Original Equipment Manufacturers
Performing such provisions remotely is especially important for IoT-based Original Equipment Manufacturers(OEM). They produce IoT-reliant equipment that is eventually shipped off to be used in foreign countries.
These devices need to be provisioned to an appropriate cellular network in their final destination. In this case, eSIM technology breaks down the complications that previously existed with physical SIM cards.
eSIMs can:
Allow these companies to remotely provision devices with optimized network connectivity based on their exact location.
Enhance control by providing standardized connectivity solutions that are centrally managed from one point across several geographic regions.
They also streamline operations by simplifying procurement, inventory manufacturing and other logistical processes.
From a global perspective, the benefits of eSIM technology are undeniable for consumers, service providers and enterprises alike. This technology is here to stay.
As more and more telcos and enterprises adopt eSIM technology, it will be increasingly necessary to partner with a reliable firm.
Telcos and enterprises will need a robust and comprehensive eSIM service or product that they and their customers can fully rely on as the eSIM market expands.
Choosing a Partner for eSIM Solutions
It's important for any business to partner with the right wholesaler.
Any partner must provide modern package options with capabilities for light, fast apps and applets that are compatible with any type of corporate product – for traveling consumers, day-to-day use or advanced IoT products & solutions.
Since technology evolves at a lightning-fast pace, it's essential that a partner not only provides you with what you need to meet the eSIM demands of today. It's essential that your partner can evolve with the times and provide the necessary technology to meet the unexpected demands of tomorrow, both inside and outside of the eSIM market.
We never know what the next phase in the evolution of this industry will be. Having foresight is an invaluable asset.
LANCK Telecom – Meeting the demands of today and tomorrow
LANCK Telecom has set itself apart from the competition for decades by providing cutting-edge technologies that have served telcos and enterprises through every stage and evolution in the market.
We bring vast knowledge and expertise with eSIM technology to all of our partnerships.
Our experience and expertise in the telecommunications industry, as a whole, includes voice, SMS, roaming, fraud prevention, enterprise solutions and more.
As a result of this experience, we're never caught off-guard by market developments.
Our partners can rest assured they'll always have the solutions to the problems that tomorrow will bring.
Embrace eSIM – Partner with LANCK Telecom today
eSIM technology offers the same capabilities as physical SIMs, plus an unmatched level of flexibility, efficiency and cost reduction that benefits consumers, enterprises and service providers alike.
Clearly, the emergence of this market is inevitable and when a company swims against a market current, they usually sink.
In fact, experts predict there will be seven billion active eSIM devices around the globe by 2024. By entering this market at its beginning stages and offering robust eSIM solutions from the start, service providers and enterprises can get ahead of the game.
Brand image, customer loyalty and customer base will be easier to enhance now than later and will grow exponentially as this market develops.
If you have any questions about eSIM technology or you'd just like to chat, feel free to contact us here. We are always happy to chat or answer any of your questions.
If you are a telco or enterprise and you're interested in equipping yourself with eSIM solutions today, feel free to contact LANCK Telecom here. One of our specialists will be in touch to help walk you through the simple onboarding process today.