Feb 2, 2022
6 Interesting Facts About Business Roaming Packs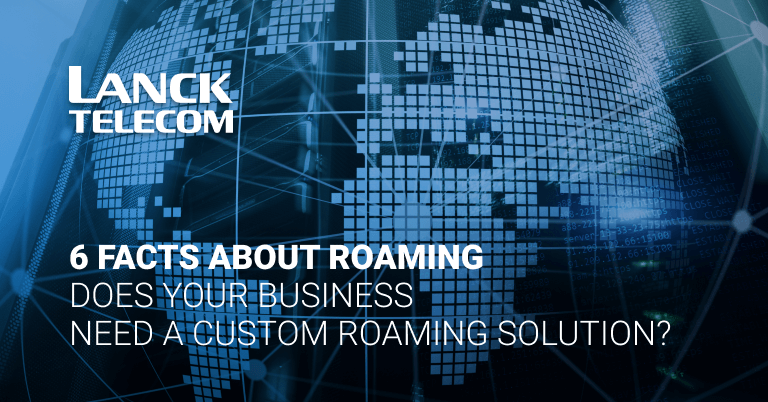 It's a new era of roaming. Modern business roaming packs are low-cost and convenient. Is your business using one?
Many enterprises need international business roaming packs as they grow and expand their reach. Mobile employees need to access voice, SMS and data from anywhere, as we're no longer tied to the office. And the demand is rising.
Rising Demand for Roaming
Despite a drop in roaming volumes throughout the pandemic, major areas of the world are reopening and roaming is climbing back. Overall, it's on the rise and isn't stopping.
However, the costs and barriers to international connectivity have made business roaming packs more difficult and expensive than they need to be.
Consider the following 6 key facts about roaming.
Kaleido forecasts that the number of 5G roamers will reach

500 mln

by 2026.

That's an annual growth rate of the number of roamers of around

306%

over the next

5

years.

Growing roaming demand will be further accelerated by international IoT devices

Many regulators around the world don't restrict what local service providers charge their customers for accessing overseas networks. 

Data roaming, alone, can cost up to

$10

per MB without a managed data business roaming pack.

The money made on roaming is enormous – big networks refrain from reducing their rates.
However, advancements in international connectivity (notably eSIM technology) have cut roaming costs to a fraction of what we're used to. Today, business roaming packs are convenient and cost-efficient.
Modern Business Roaming Packs – Global, stable, flexible, low-cost
Overseas connectivity has evolved into something unrecognizable when compared to traditional roaming services. Here's what modern business roaming packs feature:
Fast

SIM

card and

eSIM

connectivity via

2G

,

3G

,

4G

(

LTE

) that reduce roaming charges by up to

85%

Low-cost,

mobile hotspot

access abroad for business travelers to work without being tethered to free Wi-Fi

Flexible

network selection algorithms adjusted to the business' needs (for

price/quality

priority)

Preservation of each team member's

original caller ID
Competitive rates

for Mobile Data, Voice and SMS

Additional data bundles for even

cheaper

data rates

Free

foreign numbers
Special rates

for countries your colleagues travel to most often

Trusted roaming solutions with

24/7

Customer Service
These are just the baseline services. 
To be sure your business isn't wasting money on unmanaged business roaming packs, it's essential to work with the right roaming partner. 
Business Roaming Packs – LANCK Telecom
LANCK Telecom has more than 20 years of experience providing wholesale voice & SMS termination and international roaming services to hundreds of enterprises.
As a sponsor of global routing, LANCK Telecom can provide business roaming packs with stable coverage and minimum tariffs in almost every country around the world.
We guarantee our enterprise partners:
All modern package options:

SIM

,

eSIM

,

Profile

(

IMSI

)

Worldwide

coverage on

450+

networks

eSIMs

that are compatible with all types of corporate products, for

traveling

,

day-to-day

use and also with

IoT

products & solutions

Individual packages for your corporation, based on your exact needs (

duration

,

coverage

,

number of gigabytes

,

cost

)

Fulfilling special requests to create

individual reports

, depending on your exact wishes

Fast

consideration of applications

Flexibility

at all stages
By utilizing cutting-edge technology, LANCK Telecom can guarantee stable, low-cost, bespoke global roaming packs for your enterprise at a fraction of the cost of traditional ones.
Get Business Roaming Packs Today
If you're interested in setting up business roaming packs for your team, or you have any questions, simply contact us today. 
We're waiting for you. 
Telecom Solutions for Enterprises
Roaming is just one of the services LANCK Telecom offers to enterprises. There are a number of invaluable ways an enterprise can benefit from a telecom partner in the 21st century. To read more about LANCK Telecom's range of services for enterprises, have a look here.