Nov 17, 2022
LANCK Telecom's major FMS update announced by Capacity Media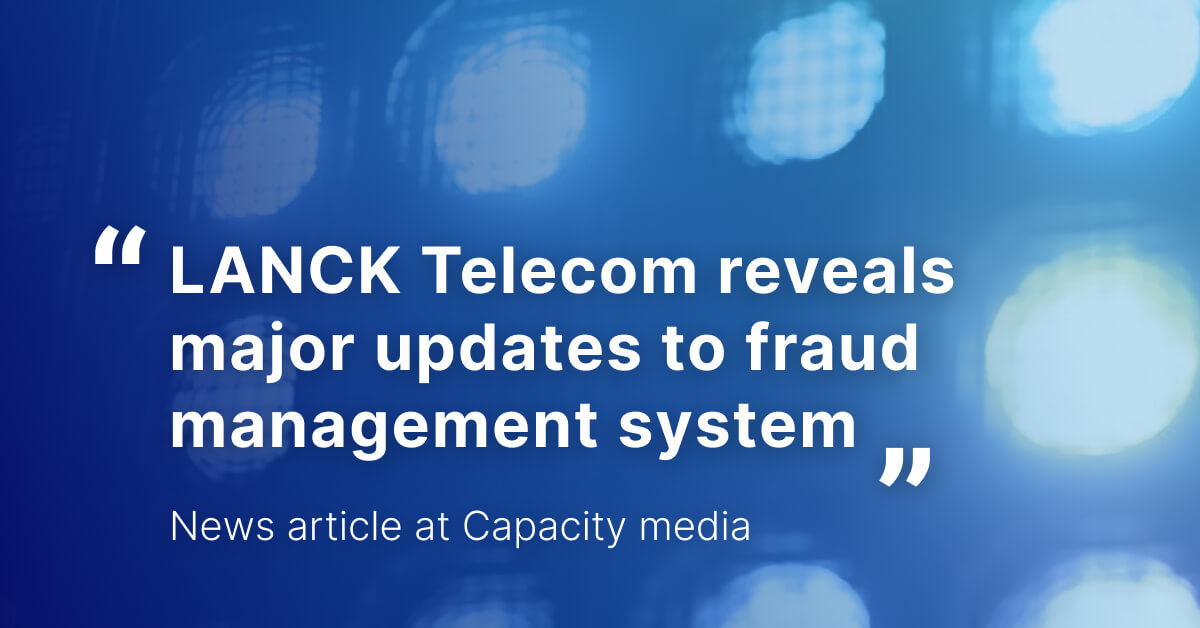 We are thrilled that a major update of our Fraud Management System (FMS) was revealed by Capacity Media. 
Capacity Media is a vital source of business intelligence for the global carrier industry. We are glad that our FMS update was mentioned alongside other highly relevant telecom industry news. 
Capacity highlighted the exceptional accuracy of our updated FMS, which is considerably above the industry benchmark. The updated FMS' AI engine achieved:
A False Discovery Rate of 0.03

A False Positive Rate below 0.00001

F1 Score of 0.984
Apart from increased detection accuracy, the update includes multiple extensions such as flash call detection, inbound traffic protection, enterprise protection, and a dedicated SOC. 
The Update Covers Pressing Issues
The updated FMS includes features that provide additional levels of protection on both inbound and outbound voice & SMS traffic. There is an extension for just about every issue currently confronting businesses within the industry. 
Flash Call Detection 
This extension detects flash calls with 99.92% accuracy,giving operators the extension to either disable or monetize this verification channel. Flash calls are detected instantly with machine learning algorithms and an up-to-date comprehensive database of flash call A-number ranges. The reporting mechanism facilitates prospective business negotiations and contributes to the development of a profitable flash call charging policy. 
Inbound Traffic Protection
Besides protecting operators from outbound fraud, FMS also can protect operators' subscribers from inbound fraud such as wangiri, robocalls and spam. The subscribers are safe from annoying calls and from detrimental callbacks to premium rate numbers.
Enterprise Traffic Protection
In the case of non-automated voice services, a built-in IVR module warns employees when they dial high-risk numbers, thereby protecting them from call-back schemes such as wangiri 2.0.
In the case of automated voice services, the ML algorithms accurately determine and granularly block fraudulent B-number ranges. Thus, the FMS prevents further calls to nearby B-ranges without affecting traffic to real subscribers, avoiding revenue loss.
Dedicated 24/7 SOC Service
LANCK Telecom now provides a dedicated Security Operations Center (SOC). The SOC team offers comprehensive monitoring, technical and onboarding support, and is available 24 hours a day, seven days a week for any client need, from altering settings to offering analytical expertise for particular fraud cases.
To try out the service, just click on this link and fill in your contact details. We'll contact you within 24 hours with the offer's specific parameters.
A Customizable System 
The FMS from LANCK Telecom lets clients add only the functions that are relevant to their ecosystem and traffic without overpaying for a package. The FMS is available as a value-added service for all the operators who use LANCK Telecom's international carrier services. The system is also available as a stand-alone solution for clients who aren't streaming their traffic through us. The FMS can be deployed on the client's premises or in the cloud.
The system's availability and adaptability are key steps toward making telecom fraud a thing of the past.
If you'd like to learn more about the revised FMS and receive a special offer, please fill out the form below.