Oct 26, 2022
LANCK Telecom brings flash calls to light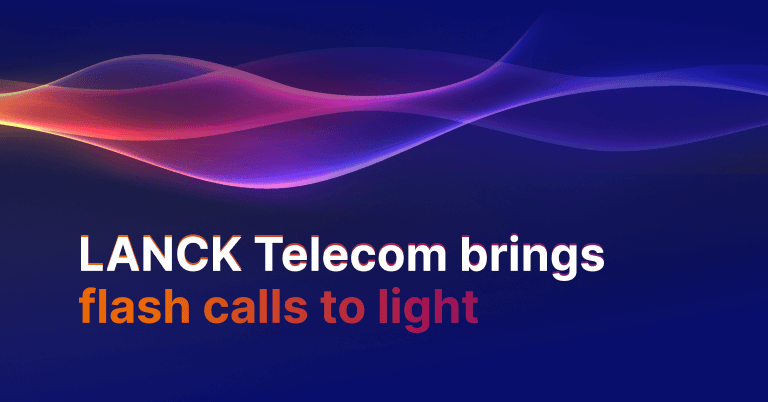 Flash calls are a heated topic in the telecommunications community. However, before discussing the challenges and opportunities they present, let's first define the term.
What are flash calls?
Flash calls are zero-duration calls, which deliver One-Time Passwords (OTPs) to customers as some digits of the calling number. Many prominent apps, including Viber, Telegram, WhatsApp and TikTok use flash calls to authorize users' phone numbers. 
Flash calls are delivered via standard voice channels and are automatically recognized as OTPs by mobile apps, making the 2-factor-authentication (2FA) process smooth and fast. 
Why are flash calls on the rise?
Juniper, one of the most reputable telecom-focused research companies, has estimated that flash call volume will increase 25 times from 2022 to 2026, from 5 to 130 billion. 
So why are flash calls becoming so popular with enterprises and communication service providers? 
This is due to several disruptive advantages over A2P SMS, including:
Cost

:

On average, an enterprise spends

8 times less

on a flash call than it would on an A2P SMS.

Delivery speed

:

Flash calls always reach the user within 15 seconds, while A2P SMS sometimes take longer than 20 seconds.

Smooth user interaction

:

With flash calls the app extracts the OTP automatically, whereas with A2P SMS users need to read the SMS and sometimes have to insert the code manually.

Security

:

a flash call, unlike SMS, can't be terminated via Sim Farms. This makes flash call authorization particularly appealing to banks and fintech.
The catch: Operators and transit carriers come out short
While offering great opportunities for apps, and service providers, flash calls create numerous challenges for operators and transit carriers.
First, terminating operators don't earn any revenue from zero-duration calls, regardless of their origin. So when service providers use flash calls instead of A2P SMS, operators and transit carriers lose out on potential SMS termination revenue. 
As enterprises and service providers increasingly prefer flash calls over A2P SMS the issue becomes even more pressing. That's because much of this new flash call traffic will be shifted from current SMS business messaging, which now accounts for up to 5% of total operator-billed revenue.
While flash calls may erode revenue, disrupt relations with interconnect partners, and overload networks, there are still no industry-wide regulations in the works, and neither is there consensus among the various players.
The challenge of accurate flash call detection
Whether flash calls are viewed as a nuisance that should be blocked or an opportunity for increased revenue via monetization, accurate detection is the first step that gives operators the freedom of choice.
This has proven difficult because operators have no way of discerning legitimate OTP flash calls from fraud schemes that rely on drop calls, such as wangiri or zero-duration calls placed by customers. In addition, outdated rules-based anti-fraud systems don't have the tools necessary for the task. 
This is where LANCK Telecom's updated Fraud Management System (FMS) rises to the challenge.
99.92% accuracy of flash call detection – now a reality
To solve the issue LANCK Telecom included a flash call detection feature in its recently updated Fraud Management System.
The FMS engine uses in-house-developed mathematical models and deep-learning algorithms to analyze 150+ call parameters in real time. 20+ of those parameters target flash calls specifically. 
The System also uses a comprehensive database of flash calls A-number ranges that is constantly updated. 
The resulting accuracy of flash call detection is high above the industry average, with a 99.92% success rate. What's more, the detection happens in real-time, as the flash call is attempted. As a result, the operator can choose to block the flash call before it reaches the subscriber, if necessary.
Flash calls as an opportunity for new revenue
By analyzing LANCK Telecom's daily voice termination traffic we calculated that on average a European Tier-1 operator could fall short 15 000 USD per day and 450 000 USD per month by terminating flash calls instead of SMS OTP. So now is a crucial time to implement flash call detection into your system and capitalize on the trend.
To see our full data and calculations download the flash call infographics.
With our FMS operators can bring flash calls to light and accurately determine the flash call ranges. As a result, operators can now make an informed choice on how to treat flash calls to maximize revenue. 
FMS gives operators the upper hand
The FMS gives operators all the necessary information to negotiate a billing agreement with a flash call provider. It's easy to download log files because the System has built-in reporting capabilities and a user-friendly interface. Once an agreement with a 2FA service provider has been reached, it's simple to add the approved A-number ranges to the whitelist section of the interface. 
All flash calls not covered by agreements can be blocked automatically to restore A2P SMS revenues. Once a flash call has been blocked, 2FA service providers don't have any other alternative but to send an SMS OTP as a fallback. Our solution offers narrowed-down blocking of specific ranges, so no legitimate traffic is affected and revenue loss is avoided.
So whether an operator chooses to block or monetize flash calls, the FMS will help them protect and increase revenue. 
The updated FMS is packed with exciting features
LANCK Telecom's updated FMS offers the flash call detection feature as an add-on to the free version, which is available to all operators that use LANCK Telecom's voice termination services. The solution is also offered as a stand-alone anti-fraud tool, which can be deployed on clients' premises or in the cloud.
If you would like to learn more about the updated FMS, which includes inbound traffic protection and enterprise protection, get in touch with us here.
About LANCK Telecom
LANCK Telecom is a global player in the telecommunications industry, offering solutions for voice and SMS traffic termination, roaming, fraud management and a communications platform for enterprises.

Get flash call infographics