May 12, 2020
Interview with Alexey Yanson, Managing Director at LANCK Telecom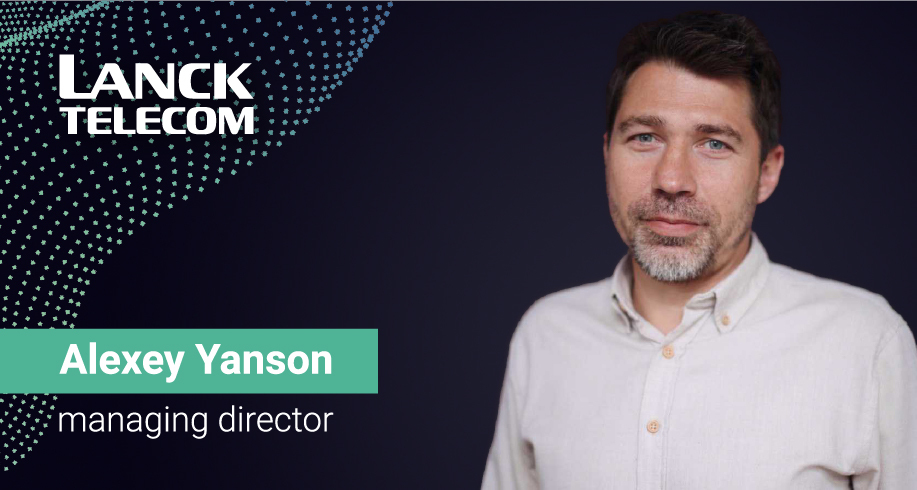 People talk. They do it through spoken word and text, via phone and laptop, sending faxes and emails. They talk to people near and to ones thousands of miles away. The telecom industry was made to keep people in touch. 

LANCK Telecom is eager to start a new project in which we talk to the main players of the industry, to keep you in touch with telecom itself. We will start with a series of interviews with C-level managers of several telecom companies. Our discussions will frame the current issues and tendencies of the field through the eyes of telecom decision makers. Make sure not to miss these interviews by following LANCK Telecom on LinkedIn and Facebook.
Today we will be talking with Alexey Yanson – Managing Director of LANCK Telecom – regarding the current telecom state of affairs.
– Hello, Alexey! First of all I would like to thank you for the opportunity to ask you questions that cause much concern to (I believe) lots of people involved in the telecom industry nowadays.
Let us start with one of the hottest topics of the past several months – COVID-19. Despite it is not being explicitly related to telecom, this issue has already changed the field. LANCK has partners in mainland China, Italy, Spain and many other countries suffering from COVID-19 and representatives in Hong Kong, Madrid, Washington. How have they been affected by the disease issue? (How do you find the situation in general?) What do you think about the influence that COVID-19 has already made on the telecom industry and what to expect further?
– Hello, and thank you very much for giving me the opportunity to speak. So regarding Coronavirus-19, generally a big thing is going on and we see the world changing and the telecom industry – as a part of the world – is changing as well. I would say the importance of telecom is increasing since it is becoming sometimes the only form of connection between people. 
As for LANCK, of course, we are all staying at home and working from home, which is not as big of a challenge as in some other industries since we are in IT/Telecom and we are used to spending a lot of time online. So I would say the impact is quite big but not too critical. Of course, we had to change certain processes within the company. That's why the employees are mostly staying at home but all are working and actually I find there's much more projects and communication going on nowadays between the telecom companies and within the telecom companies in the form of internal communication. Additionally, there is more time to concentrate on new projects.
As for the influence [of COVID on telecom – here and then editor's notes are given in square brackets] –  I would say that the world has realized the true importance of telecommunication with what has happened and the telecom industry has gotten tested by the necessity of maintaining connectivity in situations like we are experiencing right now with Corona.
So I think generally this is a big shock for the telecom industry. As you can see, a lot of companies like Zoom, BlueJeans and Skype are super popular right now for business communications and in personal communications. To keep up with demand, they all require connectivity. They all require data. Generally, however, it is a positive for the Telecom industry. It is quite a big impulse to be developing faster, spending more resources on developing infrastructure, building backups for infrastructure, and so on.
– But despite the COVID-19 situation, telecom has been trying to get through a metaphorical 'industry sickness' recently. It is not a secret that telecommunication nowadays has been going through a tough time because of steady decreases in voice traffic. Some of the operators have been trying to handle this by changing their focus of the services they provide and diversifying their businesses. What do you think the future of telecom will look like? What are the challenges for the telecom industry in your mind?
– Well, I think – first of all – this is not really a 'sickness' for the telecom industry but mostly a sign [of the times.] For LANCK, voice has always been the biggest revenue source, whether TDM or traditional voice. We can see that OTT is having a lot of traffic but retail voice is not necessarily decreasing. Though you're right, a lot of operators are changing their focus or diversifying their business. [For example, 6 years ago] LANCK started a project in the messaging industry.
We are putting a lot of resources into all types of verification and messaging and not only traditional, P2P, and A2P SMS, but also RCS and omni-channel messaging. We are spending quite a lot of resources on building our FMS (fraud management system) service, which is a big demand. I would say these are the main areas we are targeting right now at LANCK.
– I would like to ask you about fraud a little bit more broadly. Could you tell us about the scope of fraud, nowadays? Why is it so tough to overcome despite all the attempts from the industry's main players?
– Yeah, of course – fraud is a big issue and there are different types of fraud and different ways in which fraudsters try to profit off of operators, enterprises, consumers, and telephone subscribers. Voice fraud losses are estimated at 30 billion US dollars every year. A lot of the fraudsters are actually quite [technologically] developed and advanced and they are using a lot of advanced technologies. Companies are trying to protect their customers, their own networks, and their clients but enterprises tend to always be one step behind.
Though I do see a light at the end of the tunnel and I think there is more and more attention drawn to this issue within operators, within the community, and within organizations. I would say that anti-fraud systems are getting more and more developed and advanced; such as the one developed by LANCK. Artificial intelligence is becoming more and more involved, and machine learning is becoming more and more involved. So I would say we are catching up and there is more and more fraud that we are able to prevent and to stop. We have added 30 new operators to our Fraud Management System over the last 9 months. FMS is now processing more than 100+ million minutes of voice every month. We are blocking tens of thousands of fraud calls every day – making the market safer for all. So let's hope for a bright future for the industry with no, or nearly no fraud on the field.
– Of course, we all hope for it! Previously you mentioned RCS. What do you think of it? Will it be a winning feature – determining the market – or just another service nobody would use as we experienced with MMS?
– Well, MMS was quite popular for a certain period. But I do agree that it was not the most successful type of messaging. As for RCS, it definitely has a lot of potential and it is a focus for quite a lot of Enterprise organizations and we as well are investing a lot of resources in RCS. We enable RCS messaging and we believe in RCS compatibility. We are working with both main RCS technical platforms, and have worldwide RCS connectivity. Potentially it is a very powerful thing. But as with a lot of technologies, it really depends on quite many factors. I do believe that the most important thing right now, is the security which is not a hundred percent solved at the moment. However, I do believe it will be a big thing on the market (at some point, but not yet) and definitely will give huge opportunities in the fields of marketing and communication and interaction with customers for enterprises. In mid May 2020 Google finishes connecting 16 countries to full RCS coverage, so the USA & Canada, most of Latin America, and most of Europe will have all operators RCS-enabled. A lot depends on how the community of operators, enterprises, and vendors will cooperate in developing and promoting this technology.
But at LANCK we do believe in the future of the RCS.
– Good. Let us focus a little bit on messaging. Analysts predict the future growth of A2P SMS in the near future? To what extent is A2P providing a competitive alternative to OTT messaging? How would it affect the industry?
– A2P keeps on growing, you're right – since SMS is still the most stable and reliable way of messaging at the moment. Though as we've been talking earlier, there are growing technologies that are a threat [to A2P]. I think that A2P SMS will stay in the market for a long time. It might just stay on in certain Industries, but it is still the most reliable way of delivering a message and it will stay at least for the next few years. 
Regarding growth, I do believe that it might slow down a little bit and might even shrink to only include certain industries that would choose reliability versus the more wide opportunities provided by alternative technologies. Though it will stay.
– Another milestone of modern telecom is 5G. What do you have to say about it? When should we expect 6G? Could you also make a comment about 5G in Russia? What is the sticking point in 5G expense there?
– The 5G is definitely a very important step in the development of mobile infrastructure worldwide. It gives a lot of opportunities in many areas like media, communication, and IoT. However, I do believe COVID-19 has stopped or slowed down the promotion of the 5G. Unfortunately, a lot of the events worldwide that were about to show all the benefits and bonuses of 5G like the Olympic Games and all the sports that were supposed to be using 5G for media transmission and broadcasting have been canceled. Still it is a super important thing that is just a bit slow in current  promotion. It will allow a lot of new abilities for many industries. I'm super excited to see what the world will look like with 5G and I do believe it will probably change everyday life – not only of organizations and companies, but the life of a person, his everyday life. So let's see.
– Yes, let's see. Virtualisation is one of the main definitions of the present and future. The service of eSim is becoming more and more provided. And it is not only related to IoT. How do you think these new services would act on the market? Why are they points of interest for telecom?
– Well, it's definitely a point of interest. I mean, the mobile devices that are using eSim are consuming data – it is actually part of telecom. eSim is a new step for getting more freedom and flexibility for the user to consume mobile services. At LANCK we do have an eSim project and we are looking forward to actually developing it more, especially in certain areas. Of course, there are market leaders [to contend with]. However, we do believe we found our niche and we are going to be able to provide certain services in this area in certain geographical markets that will be competitive – and they are competitive at the moment.
– Since we have brought up cyberspace, let us talk about another thing that practically everyone encountered in their everyday life – verification. We all want to feel safe in real life as well as in the virtual world. What are the services provided by telecoms in this case? 
– One of the biggest challenges that telecoms have been involved in is how to provide protection and safety for users and for enterprises. One of the steps in the process of verification is usually provided by telecoms, especially now – in the virtualized world. There are very many ways to verify customers, users, or accounts and there are more and more new technologies on the market that are coming every day. There are certain traditional ones we all know like SMS or OTTs. One of the ways is not even exactly on the operator's side: all kinds of facial recognition and fingerprints and so on. We are always trying to follow the trends that provide our clients with flexibility and with the ability to choose which way of verification feels most efficient, cost-effective, and convenient for their users. And we do provide, of course, traditional verification through all parts of messaging, voice verification, Pinterest pages or flash calls. Our R&D is working on optimizing and improving the verification steps for our customers and for our clients and this is a big part of the business that will only grow.
– I guess it's a good trend. One more of the general trends that some experts identify in the telecom industry is the shift from West to East. Who are the trend-setters today?
– Of course, a lot of resources – I mean funding and human resources and engineers – are in South-East Asia. And easy access to funding compared to the high level of education gives a good boost to all types of organizations generating new ideas. But in the end I think it comes down to the way that venture capitalism is willing to invest in new projects and startups. I won't necessarily say that there is a shift from West to East.
It depends on where you are based. If you take Silicon Valley, that is still a huge incubator of new ideas and startups. And there are a lot of technologies that are coming from that side. I would say, of course, there are few leaders with very interesting startups that are coming from the Asian side, but I don't feel like there's been a shift really. Of course, with the growth of South-East Asia there are more and more opportunities and it is developing. Actually, it is impressively developing but I would say there are still a lot of very interesting technologies that are continuously invented in the US or Europe.
But coming back to COVID-19 – this is something that is clearly influencing the economy worldwide. And I think that there are big chances for the European economy to be affected in a bad way much more than than the Asian one. This will probably give a serious advantage to the Eastern part of the world. But it's hard to predict at the moment.
– And finalising our conversation, I would like to ask about LANCK Telecom. It would be great if you could share the plans for 2020. What would LANCK's main development roadmap be? And if possible, could you talk about any upcoming LANCK Telecom news that are expected in a year?
– I'm feeling comfortable with that. I would like to say that the last year has been very interesting. We are very satisfied with the annual results and figures. A lot of the key projects have developed nicely. We had nice growth in voice. Messaging is developing a lot of interesting new projects. There are a lot of interesting new partners and a lot of deals we are discussing. But the most successful development, I would say, we have reached last year, is our activities in fighting fraud in voice and messaging. Our anti-fraud system has seriously developed and I would say that at the moment, the system would probably cover the whole spectrum of operator and enterprise needs in fighting voice and messaging fraud.
We have been very active on the organizational level. We are now members of several organizations like GSMA, i3Forum, CFCA, and are leading initiatives in these working groups. We are sharing a major development with a fraud scheme we discovered – Wangiri 2.0. We developed a solution against Robocalls with CLI Spoofing, that is recognized as a top option for operators that face Robocalls attacks.
We are connecting our partner operators, carriers, and voice service providers every month to our Fraud Management System, making the business environment cleaner and safer.
And in 2020, in addition to developing the voice and messaging business where I actually do see a lot of financial planning, the main focus will be developing ourselves and promoting ourselves and spending resources on the R&D side of the anti-fraud initiative which is the big demand from operators as well as Enterprises.
– Well, hope all of the plans you have mentioned will come true in the near future. Looking forward to hearing about the upcoming LANCK news you've described. 
Thank you very much, Alexey, for the interesting conversation!
P.S.: If you would like to discuss partnership opportunities you might contact us via email: contact@lancktele.com
make sure to follow LANCK Telecom on LinkedIn and Facebook to not miss the next interview.