Apr 25, 2023
Spotlight on the Americas Telecom Market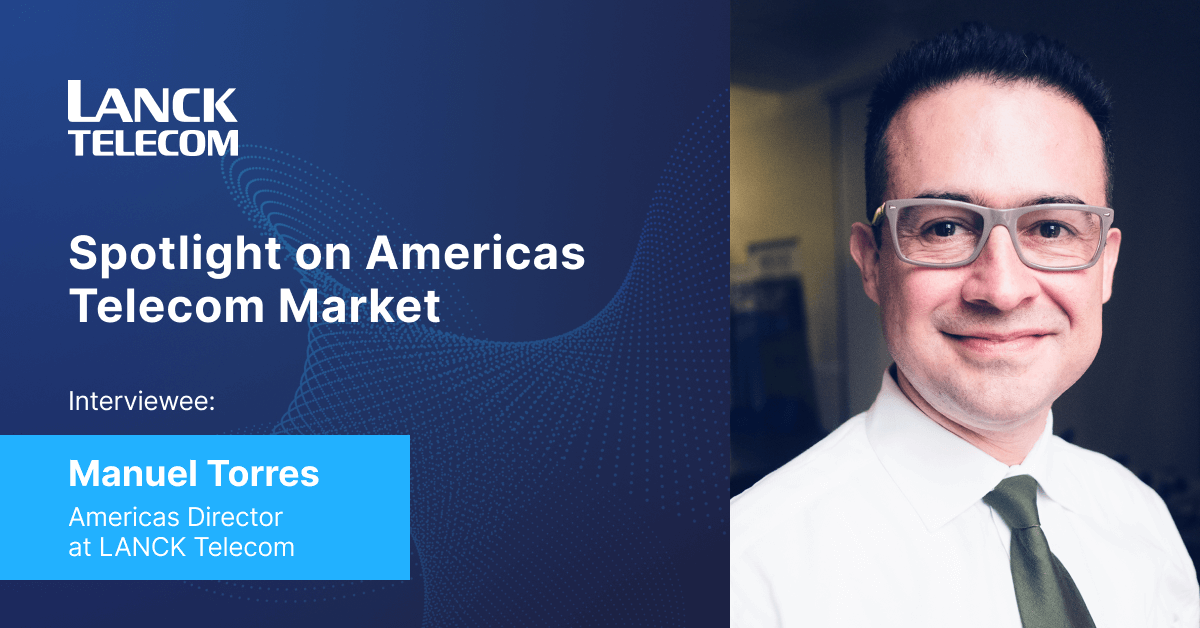 Manuel Torres, the Director of Americas at LANCK Telecom, discusses the trends, challenges, and predictions for the regional telecom market.
Intro
Manuel Torres has worked in the telecom industry for a total of 22 years and has operated as the Director of the Americas at LANCK Telecom for the last 8 years. Drawing on his extensive experience in sales, operations management, cost forecasting, and fraud management, Manuel shares his thoughts on the current trends in the telecom market of the Americas and offers his predictions for the future.
A Vast and Diverse Market
The Americas market includes North, Central, and South America and the Caribbean. With such a diversity of cultures, there are, of course, notable differences in the way operators conduct their business. Each country within the Americas faces its own challenges and developments, yet it is possible to observe some overall regional trends. For example, there has been a clear consolidation of telecommunication operators into four large groups that manage services across the Americas region. The economies of scale possessed by these large groups make the market a daunting prospect for newcomers to enter. It's also safe to say that the US remains the leader of America's telecom market, setting the trends.
The region has suffered from slow post-pandemic growth due to inflationary pressure, making the big investors less confident. Additionally, unstable political environments and the implementation of recent regulations by new governments in Latin America have contributed to this lack of confidence. Telecom fraud continues to challenge the industry, presenting a major problem globally, and specifically in the Americas region. The regional telecom market has great potential, but due to the aforementioned challenges, growth in 2023 is likely to be weak.
The Regional Fraud Landscape
Fraudsters constantly develop new schemes, so using the latest anti-fraud tools that utilize advanced tech, such as AI, is essential. That's why, from my experience, fraudsters tend to target smaller companies that lack dedicated anti-fraud teams or advanced anti-fraud technology. Previously, when termination rates across the Americas were higher, call hijacking was a more prevalent type of fraud. Now that the rates have decreased across the region, only a few high-cost destinations, such as Cuba, remain prone to these kinds of fraud. Nonetheless, from Wangiri to Call Stretching, all types of fraud are still prevalent in the region.
In the US, the sheer scale of robocall fraud led to the compulsory adoption of STIR/SHAKEN protocols. Of course, adopting new technology on a nationwide scale is a lengthy and complex process. While the system has some drawbacks, it is continuously evolving and could bring benefits in the long run. There are however many other fraud types that STIR/SHAKEN protocols don't detect. This technology primarily aims to protect subscribers, but it is crucial that operators are protected as well.
This is where anti-fraud tools, such as our Fraud Management System (FMS), play an important role. We offer the premium version of our FMS for free to all of our voice partners to protect them from a multitude of fraud types and nuisance calls. Our FMS received the Platinum Award as the Best Robocall Mitigation Solution at the Future Digital Awards 2023.
As the USA leads the Americas region, it is likely that South America and Central America will implement similar anti-fraud regulations once the STIR/SHAKEN protocol suite is fully adopted in the US. Currently, operators such as LANCK Telecom are at the forefront of anti-fraud efforts in South and Central America.
The Importance of Multi Products
A key trend propelling the telecom market in the Americas forward is the increasing prevalence of multi-products. To succeed in today's market, telcos must offer value-added services beyond voice and SMS. Such services include RCS, customer communication and verification solutions, roaming solutions, eSIM and anti-fraud. This is crucial in order to win enterprise customers who are looking for a one-stop shop that will cover all of their technical and business needs. I think it's essential for telecom operators to become active participants in other industries, serving the needs of enterprises from diverse sectors such as finance and health. Through the diversification of our services, covering all of the above points, the evolution of LANCK Telecom clearly showcases this trend.
Advice for Newcomers
Winning traffic from scratch is, of course, very challenging, especially in a market dominated by several consolidated groups of operators. I think that implementing anti-fraud and minimizing risks are very important initial steps for new players. Once protected from fraudsters, it's easier to gain new business opportunities. Another effective starting point is focusing on servicing enterprises.
LANCK Telecom in the Americas Region
In recent years and across the whole region, LANCK Telecom has shown impressive growth. For example, our voice traffic in North America grew by 20% from 2021 to 2023. Regarding SMS, in 2022, we experienced a significant growth of 30% in regional traffic volume and a noticeable 148% increase in revenue. We continue to make new direct interconnections with key regional players every year. In 2022, we established new interconnections in Costa Rica, Ecuador, and Trinidad and Tobago. We have direct interconnections with key operators from the four main groups I mentioned earlier. Consequently, we now have coverage of all countries in the Americas region, with the exception of Belize. This is very important because our clients look for someone with strong relations throughout the whole region who can offer competitive pricing without compromising on an exceptional quality of service.
We are recognized at regional shows for the quality of both our Voice and SMS, and of course, for our cutting-edge Fraud Management System (FMS). Our FMS provides real-time signaling-level protection for both inbound and outbound traffic. It uses our in-house developed ML algorithms and an AI engine to detect and prevent fraud with an accuracy of 99.92%– a metric high above the industry benchmark. At the moment, the FMS protects more than 140 partners worldwide from the following types of fraud:
Wangiri Calls and Callbacks
Robocalls
Spam
PBX Hacking
Enterprise Callback Fraud,
International Revenue Share Fraud (IRSF)
Artificially Generated Traffic
And more
We consistently update our FMS to stay ahead of emerging trends. For instance, in 2022, we added a flash call detection unit and began implementing SMS anti-fraud, which prevents various fraudulent SMS activities, including spamming, spoofing, smishing, and artificially generated traffic (AGT). This year we have already received three awards for our FMS:
Gold in 3 Categories at the 2023 Cybersecurity Awards
Platinum Award at the Future Digital Awards 2023 by Juniper Research
BOLD Award in the SAAS Category
A Competitive Region with Great Potential
The Americas region holds vast potential for LANCK Telecom in the upcoming years. We plan to expand our network of direct interconnections, increasing our voice and SMS traffic. In regards to anti-fraud and as part of our commitment to enhancing transparency and security in the industry, we will provide our premium FMS for free to all voice partners. Rather than viewing other industry players solely as competitors, I think it's essential to view all of the industry as an ecosystem of collaborators with a shared goal. We also plan to diversify our product portfolio further, offering more services designed specifically for enterprise clients.
If you would like to book a meeting with Manuel, simply click the button below and fill in your contact details.